YSL Beauty's New Skincare Drop Is Surprisingly Simple To Use
YSL Beauty/Instagram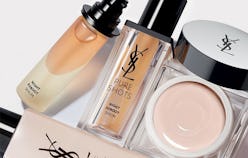 Skin care has become an incredibly complicated field. It doesn't matter if you shop online, at a drugstore, or guided by the help of an employee — or if your routine has 10 steps or just three. Luxury skin care ups the ante even further: It's not uncommon to stumble upon a designer beauty ingredient that takes extensive research to wrap your mind around. And while it easily could've followed suit, YSL Beauty's new Pure Shots skincare drop is shockingly (and welcomingly) straightforward.
It's a clever way to kick off the new year, too. Launched this January, the six-piece collection features the Perfect Plumper Face Cream, Hydra Bounce Essence-In-Lotion, and four easy-to-use serums tailored to specific skin needs — otherwise known as the Pure Shots. Fans of the house will be happy to see that the endlessly cool Saint Laurent ethos carries over into this YSL Beauty launch, too; the products were designed to combat the effects city living has on your skin.
"Discover YSL Beauty's New Skincare Range: PURE SHOTS," A YSL Beauty Instagram post noted. "A collection of potent serums made of a synergy of botanicals and essential elements of the skin. Correct all marks of an urban lifestyle, with instant and long term correction… in one shot." (For those curious, YSL Beauty is also transparent with the fact that it sources said botanicals from its Ourika Gardens in Morocco.)
At the collection's heart is the Pure Shots Night Reboot Resurfacing Serum, a biphasic formula that combines 3.4 percent glycolic acid, cactus flower extract, and a "proprietary blend of Argan and seed oil" as noted in the product description (the ingredient list does include both meadowfoam seed oil and hydrolyzed linseed extract). Together, the Night Reboot serum chemically exfoliates dull skin, while moisturizing and soothing it in turn.
But that may not be exactly what your skin needs. If not, pick one of the other three Pure Shots; such as the elasticity-boosting Y Shape Firming Serum or the Light Up Brightening Serum. Each new product in the collection retails at $88 (or $70 for an eco-friendlier refill) besides the Essence-In-Lotion, which just goes for $78.
You can find the new drop online at YSL Beauty's website, Sephora.com, and from other stockists. Below, all six recently released YSL Beauty products from the Pure Shots collection.