YSL Beauty's New Fall Nail Polish Features The Perfect Red To Replace Your Summer Shades
ImaxTree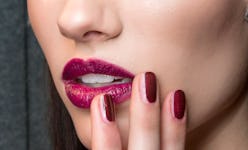 While you may have enjoyed embracing the neon and citrusy shades this summer, you'll soon likely be looking to scoop up products in color palettes with more of a fall feel. And, as luck would have it, the YSL Beauty Fall Look 2019 Collection is a curated lineup of limited-edition beauty bag must-haves in hues you'll use for the upcoming season and beyond. From a versatile eyeshadow palette and luxe lip stains to a timeless red nail polish, the luxury beauty brand's latest offering will give your top shelf the refresh it needs before the cooler weather arrives.
Though there's still time left to enjoy the summer sunshine, it never hurts to start your fall shopping ahead of time. That said, likely one of the first products you'll look to transition is your nail polish. This collection is serving up three stunning shades for $28 each that you can swap in for your summery brights, including a perfect deep red hue called "Bordeaux Underground." Meanwhile, the warm brown tone of "Marron Sulfureux" will provide for a nice autumnal neutral, while the mauve-pink color of "Beige Aventureux" is a nice alternative for those who tend to stick to lighter polishes year-round.
When it comes to your eyes, the collection includes two staples, beginning with this $60 eyeshadow palette. Designed to create both subtle and standout eye looks, the six-shade palette includes five highly pigmented neutral and bold matte hues along with a shimmering gold shade. You can further enhance your lids with a swipe of the Couture Liquid Eyeliner's high-intensity color. Ringing in for $34 a tube, the smudge-proof, long-wear liner is up for grabs in silver and bronze as well as in a vibrant purple and blue.
Show your lips some love with one of the two pout-defining products in the collection. For those who seek shine, peek at the Vinyl Cream Lip Stain, $37, in either a pinky beige or a captivating red. Or, opt for the Tatouage Couture Liquid Matte Lip Stain if you prefer an ultra-matte finish. Priced at $37, the luscious lip stain is filled with highly pigmented color and comes in a warm nude as well as a rich red.
Rounding out the group is a plum wet-to-dry blush that'll give your complexion a pretty glow along with a dose of color. The $42 lightweight blush can be used to highlight, color, or contour your face, which makes it worthy of a spot in your makeup bag. And, depending on if you decide to keep it wet or dry, the blush's color can range from a light wash to a more intense pigment.
Don't wait until summer is over to start shopping for fall products. Continue on to snag the latest from YSL Beauty before everyone else.