Year Of Ours' Leggings Got A Very Warm Update Just In Time For Your Next Ski Trip
Year Of Ours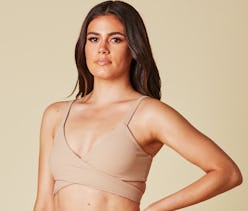 For all of the moments during this season that have you curled up on your couch reading a good book or watching the latest It-show with a cup of hot chocolate in hand, there are plenty that will beg you to be outside and enjoying the winter wonderland that comes with the colder months of the year. So, when those moments do come by, you're going to need something to wear. Luckily, Year of Ours' Hockey Leggings now come in an ultra-chic (and cozy) thermal fabric, which means you'll be the most stylish one out on the slopes — or lounging inside afterwards, no judgment here.
Call it reverse cabin fever, but nothing feels quite like wearing something as cozy as a thermal piece during the winter months. That said, the waffle-knit fabric is typically associated with seasonal underpinnings and the rugged outdoors. Don't take it the wrong way: A thermal Henley shirt is as great as any other loungewear piece, but it's typically thought of as just something to wear underneath another piece. So, when the LA-based activewear brand reimagined the camping staple in the form of its own pieces, it didn't go unnoticed.
The Year of Ours Thermal Collection includes five pieces from the brand available in black and tan, including its signature Thermal Hockey Legging, which costs $118, along with sports bras and a crop top. So whether you ski, snowboard, or at the very least just want to look like someone who does, Year of Ours has you covered, literally and figuratively. Just in case you can't get enough thermal attire in your wardrobe, you can also add the Thermal Track Legging, $108, into the mix. With the stripe detail along the side, you'll definitely want to wear it with a cool hoodie when you aren't making your way down a mountain.
Complete a head-to-toe thermal look with a matching Thermal Lily Bra, $79. Like the rest of the collection, this bra is made with the brand's active thermal blend, so you'll feel all sorts of comfortable without having to worry about sweating through a heavier material. Planning on taking a barre class this season? The Thermal McPherson Bra, with its thin straps and wraparound tie, was essentially made for you.
If you need another base layer to go with your leggings and sports bras, the Aspen Crop, a top exclusive to the collection, will be an effortless addition to your ski style. This crop top also features a cutout in the front, proving that this is not your everyday workout shirt.
Regardless of how active you are, the Year of Ours Thermal Collection will ensure that whatever you do, you'll do it in style. From going on your annual ski trip with your friends and family to staying grounded next to the fire, each of these pieces will be the your go-to essentials throughout the season.
Ready to start shopping? Scroll down to see every piece from the collection and add them to your winter workout gear now.