After Modeling For 30 Years, Yazemeenah Rossi Reveals The Key To Ageless Style
Courtesy of Yazemeenah Rossi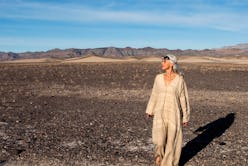 You'll rarely see Yazemeenah Rossi without one of her trademark cashmere shawls. The 63-year-old, French-born model and photographer, known for her flowing silver hair and minimalist style, tells The Zoe Report she's always been attracted to wide, floaty silhouettes that make her feel comfortable, balanced, and beautiful — and says that sticking to what she likes has helped her develop a personal style that is both standout and completely age-defying.
Rossi has seen her share of trends since starting as a model in France 30 years ago, and while she's often glammed up in front of the camera, behind the scenes she opts for items that are simple, monochromatic, and tell a story. She's lived all over the world — at one point calling Paris, New York, and Cape Town home — but these days lives in Malibu, where she says she feels most at home.
"Here in Malibu, I can totally express myself like I like," she says. "I can wear caftans all year long. I can be with my Birkenstocks. I don't have to compromise, you know?"
Were you always interested and drawn to clothes and style, or is it something that developed as you grew up?
I think I've always been, because my mother was a tailor. She was making me clothes. I could not stand up without moving for the fittings, so she told me, "You will never be a model." And I was like, "Oh my goodness." At 30 almost, I became a fit model, and I was always thinking of that.
[When I was younger], I was stealing my father's old jeans that he had in his garage, and I was cutting my own things. Making my shorts, tailoring them. I always did that, and in fact, now at my age, I wear these the same way when I was 15.
I wear the same thing from 30 years ago, and they are still in fashion, because my things are timeless.
And when you were creating those clothes yourself, were you doing that out of a desire to wear trends that other people were wearing, or were you doing it out of a desire to look very different from everyone else? Or were you not even aware of how other people were dressing, and it was just what you knew you wanted to wear to feel comfortable?
It's what I wanted to wear, because I thought it was nice on me. I didn't care about if it was fashion or not. I wear the same thing from 30 years ago, and they are still in fashion, because my things are timeless. I love to wear long caftans. I'm not someone who loves to wear skinny jeans. I have some, but it's not my choice. So it's not about following a fashion trend. It's more about, I love that, I feel good in that, I feel beautiful in that, I feel in balance in that. What I like is texture and things that are timeless. So it's not to please others, it's just to please myself. And you know, it's funny because I have a lot of clothes. A lot of people send me clothes, but I always go back to my old things. It's where I feel myself.
What item do you own that instantly makes you feel confident when you put it on?
I love my clothes and I feel good in them. My tunics, maybe. My shawls. It's something I cannot go without. It's true I always have a piece of fabric with me, because I think it completes the whole outfit, even if you don't wear it. I keep it on my bag, on the side, you know. It's really nice.
Would you say that you gravitate toward pieces that have a little bit more meaning in them?
Yeah, definitively. I have a small collection of clothes from the Middle East, totally handmade. And when you think about that, people made these by hand. Every stitch. So often I wear them with a lot of gratitude, thinking of the people who spent so much time making them with their soul. When I wear this, it's like I connect to humanity, you know? It's really strong.
Which item, if you can pick one, is your most beloved or that you've owned for the longest?
Oh, it's a piece of silk, black silk, satin silk. It's like 4 yards or something. Very nice silk, very heavy silk. I've had it for more than 40 years.
I just seam it around, by hand, to make like a big scarf, and I use it like a wrap, like a dress, like a sarong. And I've never been able to cut it. I just kept it like that. I think it's my oldest piece of fabric I have, maybe.
I love to be monochromatic — one shade, and all different nuances of the same shade. I love this minimalism.
Can you recall an outfit that you've worn that was iconic for you in your life for some reason, whether it signified a big moment, or a changing point in your style?
When I was younger, for a long time I didn't like my neck and my shoulders. This part of my body, even in summer, was hidden. I had this kind of trendy turtleneck in cotton, because I hated my neck, and I hated my shoulders, my clavicle. So I was hiding all that. I don't know what happened, but I was working with this designer, and she was making this beautiful tunic and corset, and she had it very open [around the neck]. And I don't know what happened to me. I decided to cut a tunic with this neckline. This was a total change. And I felt so great. It has been a page turn. I felt more feminine.
How would you define your personal style in a few words?
Minimalist. Timeless. Comfortable. Time traveler, time traveling.
Do you think as you've grown up that you have become carefree in the way that you style things, or have you become more uniform?
I eliminate more and more and more and more. I love to be monochromatic — one shade, and all different nuances of the same shade. I love this minimalism. I love patterns, but it's rare that I wear them. When I wear them I don't feel myself. It's really weird.
It's like jewelry. I love jewelry. I have a lot of it, and I make some of it. But often I take it off before leaving the door. Because it's like, I am the jewel, you know what I mean? It can seem very ... narcissistic. But no, I am what is precious. Why am I going to put on all these things, you know? I love them, but when I'm out, it's rare that I wear these things.
This interview has been edited and condensed for length and clarity.