Meet YanYan, The Label That's Bringing A Whole New Look To Knitwear
Courtesy of YanYan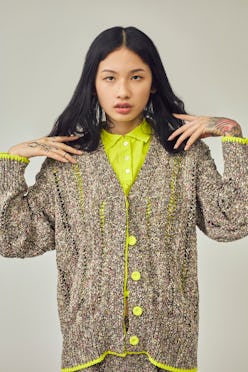 Sometimes when you hear about a new brand you almost want to keep it to yourself out of, for lack of a better word, selfishness, but knitwear label YanYan is too good to not be shared. The direct-to-consumer brand released its first capsule on March 11 and these knits are anything but basic. Filled with color, eye-catching details, and modern silhouettes, the debut collection exudes a cool-girl vibe leaving little doubt that it'll make a splash among the fashion-set.
YanYan, meaning "everyone" in Cantonese, was launched by the former rag & bone Director of Knitwear, Phyllis Chan, along with Hong Kong designer Suzzie Chung. For the initial capsule the pair tapped into their Chinese heritage and used traditional details such as cheongsam-inspired closures as well as hand-tied, hand-embroidered Chinese knots. Additionally, the collection is knit in China and utilizes Italian spun tweed yarns, Scottish lambswool as well as technical yarns spun in Japan.
And, since you'll soon be shedding your outerwear in favor of layering pieces meant for style instead of pure necessity, YanYan's collection is the perfect place to start scooping up standout sweaters. The brand serves up several on-trend cardigan silhouettes, ranging from the florescent yellow Holey Shrunken Cardigan to an oversized grandpa cardi with delicate embroidered flower that'll undoubtable lead to a lot of "where'd you get that?" moments.
While you may first think of your top-half when you hear the word "knit", YanYan definitely doesn't stop there. Offering up pants, dresses, shorts, and more, the brand gives you the opportunity to sport a chic knit look head-to-toe. Take the Two Tone Tweed Striped Jacket, though it'll do well on its own paired with denim, you can bring your whole outfit up a notch when you style it with the matching pant.
In addition to clothing, the capsule includes three bags that'll leave you wondering why you never owned a knit tote before. Snag one in a spring-ready multi-colored stripe, or go for the Holey Tote and take your pick between a can't-miss yellow or neutral gray.
Continue on to start shopping the capsule and head over to YanYan to see the rest. The line is available for purchase on the brand's website and will be distributed exclusively at No. 6 in New York City and RHC Ron Herman in Tokyo.