Everything You Need To Know About Those Hands-Free Phonecases You've Seen On Instagram
Courtesy of XOUXOU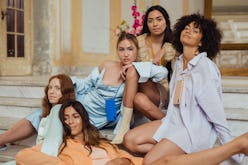 If you've ever found yourself emptying the contents of your bag while running errands or going out, chances are you were juggling your wallet, keys, and cell phone, among other things at once. Anyone who's gone through this balancing act knows how much of a struggle it can be. But thankfully, as technology continues to progress, the number of accessories to support such innovative devices grows with it. And now that smartphones have become a ubiquitous part of our everyday lives, it was only a matter of time before hands-free phone cases would make their way into the mix.
By now, you've probably gone through a handful of different phone cases to discover which one you deem as "the one". Typically speaking, they do either one of two things: protect your phone through all types of scenarios or serve as an extension of your style. And if you've ever spent time looking for a case that does both, you know the task is easier said than done. However, with its sleek phone necklaces, XOUXOU might have just created exactly what you need.
The Berlin-based company's smartphone necklace came out of the need to make the life of its founder, Yara Jentzsch Dib, easier when she was juggling the tasks of a working mother. As a result, she created a functional (and stylish) hands-free case to keep her most-used device with her at all times.
For those of you who lead a life filled with a never-ending list of responsibilities and need a convenient way to carry your phone, or maybe you just want to forgo a purse for a day, XOUXOU's hands-free phone cases are the perfect solution And, if It girls Margot Robbie and Claudia Schiffer have proven anything, it's that with this case your phone can finally become a seamless part of your ensembles.
XOUXOU's necklaces come in a few different styles to suit your aesthetic. For those who love a more minimalist look, get the $29 Basic style — which comes with a clear case and a colorful rope. If you want something that feels a little bolder, opt for the brand's Modular cases, which are made of bright silicon and cost $66 when paired with a rope and $72 when you choose a lanyard. Of course, you can also mix and match your Modular XOUXOU cases to go with your changing style by buying the cases, ropes, and lanyards separately.
Continue on to shop XOUXOU's celebrity-approved, innovative phone cases below.