Add Polish To Your Work Outfits With These 5 Items
Jeff Spicer/Getty Images Entertainment/Getty Images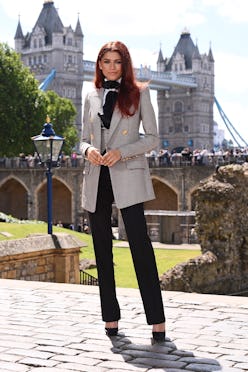 Sure, there's probably still some sand in your wallet and you've certainly got a sun-kissed glow, but unfortunately neither of these facts can stall the advent of September's back-to-work march, or the workwear essentials it demands. Rather than mourn the end of the season of effortless living, set your sights on fall and all of the fantastic opportunities it presents. Gunning for a promotion? Now's the time to leap to the offensive and leave a stamp of positivity on the 2019 fiscal year. Want to refresh your look? Look no further than the abundance of fresh trends to reinvigorate your wardrobe. Aiming to achieve the former and the latter? Make like a modern multitasker and tackle them simultaneously with a few savvy, and confidence-boosting, work-appropriate purchases that'll help you step forward in more ways than one.
Looking for a little guidance on the stylish career-dressing path, I tapped Rachel Zoe, who is a CEO and a designer in addition to her stylist bona fides, for her top picks. Whether you're looking to add some power to your suit game or get creative with trends in your business-casual workplace, she's sharing something for everyone. You may even catch her wearing them at New York Fashion Week.
A Waist-Cinching Belt
Don't underestimate the power of a belt. "I cinch everything from oversized sweaters to blazers to coats," explains Zoe. Never is it more timely to invest in a great belt style than for Fall 2019, given the abundance of cinched tailored blazers on the runways of Givenchy, Bottega Veneta and Khaite. "Go classic with a simple black style, or add some personality with a colored leather or a sleek buckle."
A Satin Blouse
"Satin is enjoying a moment this Fall," explains Zoe, "and can be surprisingly buttoned up on a blouse or bodysuit, making it ideal for business drinks and events." Opt for a versatile, long-sleeved style in black, like this on-trend asymmetrical off-the-shoulder style.
A Croc-Embossed Accessory
"Croc-embossed leather promises to be as abundant this season as snakeskin was last year," says Zoe. "Go bold with a purse, or add a small touch via a wallet or card case." Extra points if you want to incorporate it via a boot which can be styled under a midi skirt for the office.
The Perfect Pump
"The office isn't the place for strappy, date-night sandals," advises Zoe. "Instead, incorporate a cut-out pump, ideally a style with an of-the-moment ankle strap that can be worn alone with a dress, with tights when the temperature drops, or tied around the ankle of a pant if you work in a more creative environment." A neutral brown is great for styling with September-appropriate printed skirts and dresses and will segue seamlessly into fall's tights trend once the temperature drops.
A Bold Blazer
"Don't shy away from color in the workplace," says Zoe, "just ensure it's on a silhouette that is refined and not flashy." Take, for example, this timeless, double-breasted blazer, which will pair brilliantly with everything from black slacks and a white blouse to coordinated wide-leg trousers in the same fiery hue. September is the time to take charge, so why not dress the part?