Meet The Cult Australian Brand Heavily Requested By Bella Hadid's Stylist
Courtesy of With Jéan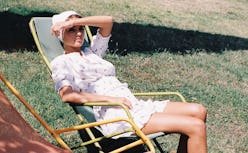 No matter where you are this time of year, chances are you're experiencing some level of the winter season — whatever that means to you. Whether it's something that resembles the arctic tundra or what others might deem as mildly cool, there's a good chance you're already thinking about your next warm getaway. And With Jéan's vacation collection, Montalcino, will ensure you're ready when the time comes.
You've probably stumbled across one of With Jéan's pieces on your favorite It girls like Bella Hadid and Margot Robbie. The Australian clothing brand has been around for less than three years, but that hasn't stopped it from skyrocketing to cult status — much of which can be attributed to its best-selling pieces like the Isabelle Dress and the Bridgette Top. Now, the brand has launched a new collection filled with chic dresses, vintage-inspired tops, and more. And as anyone who's been a fan of With Jéan since the beginning would expect, it's good.
While With Jéan's pieces have always carried an undeniable sense of flirtation, its latest collection, which is inspired by the quiet moments spent under from the Tuscan sun, takes on a more sophisticated approach. If you're looking for streamlined, elevated pieces, get yourself the $169 Gia Dress, which feels like a modern take on the classic '90s halter dress. For anyone who wants to add more halter pieces into their wardrobe, the Zeta Top is available for $119 and can be worn with a high-waisted pencil skirt for casual polish.
Perhaps you've already noticed, but prairie-inspired pieces have taken the fashion industry by storm over the past year or two. And if you've been a fan of the trend, take the $179 Rosa Dress with you on your next trip, no matter where it is. The frilly dress will go well with a pair of espadrille wedges or clogs. And if you want a top to add into the mix, you won't go wrong with the Mabel Top, $149.
With Jéan always has a gorgeous floral print in their collections, and the Montalcino capsule is no exception. If you're heading to a destination wedding with a tropical locale, opt for the $119 Avena Top paired with the $149 Leona Skirt for a chic matching set. And if dresses are more your thing, the $169 Valeria Dress is equally beautiful.
If you're eager to start planning your warm-weather vacation, scroll down to see With Jéan's Montalcino collection below.