Williams Sonoma Home's Clearance Has Everything You Need For Your Dream Living Room
Williams Sonoma Home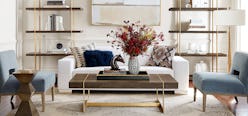 When you think of the store Williams Sonoma, you might be more inclined to imagine beautiful kitchenware and all the accessories that come with it. But take one look at the brand's home store and you'll find goods for every other area of your life that are equally chic. From beautiful linens and bedding to stylish décor to spruce up your space, you'll find all of these luxurious items in Williams Sonoma Home's clearance sale, and for surprisingly low prices, too.
Anyone who has gone through the experience of putting the final touches on their home space knows that it can be an investment — after all, the right pieces can turn your living space into a safe haven of sorts. That said, when you can get a discount on items that you'll be using for years to come, why shouldn't you take that opportunity? And with the selection Williams Sonoma Home has to offer in its sale section, no one will ever know you bought them on sale.
Add this Hand-Knotted Souk Moroccan Rug, on sale for $2,120.99, to your living room to give it some more visual texture. If you want to start building up a new look for your home, imagine this Highland Coffee Table, $1,599.99, on top of it, for an eclectic mix of modern minimalism with the traditional print of the Moroccan rug. If you want to add some accessories into this room, you can't go wrong with this Giraffe Sculpture on Stand, which is on sale for $80.99 and can be seamlessly placed in any space you want.
Looking for some simpler pieces to add to your home? You can't go wrong with the Cashmere Throw with Leather Binding, which appears to be the epitome of luxury and is on sale for $219.99. Or, if you want to add a pop of color to a specific area, this bright green Monkey Zardozi Pillow Cover will easily be a conversation starter and costs $169.99 from its original $199.
For those who like to entertain their guests, opt for this Leather Cord Wrapped Tray, which costs $116.99 and will make you the ultimate host. Once that party's over, lounge around your home in this plush Rob and Lydia Mondavi Tencel Robe, which you'll be eager to stock up on and never to take off.
Ready to start filling your home with beautiful goods? Scroll down to shop more chic pieces from Williams Sonoma Home's clearance sale, now.