If You Love Luxury Vintage, You Need To Shop This New Collab
Courtesy Matchesfashion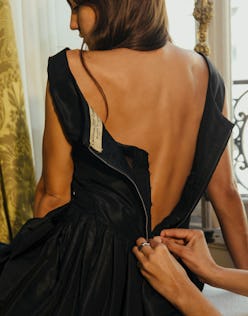 Vintage and second-hand shopping may have once come with a stigma for a certain group of shoppers. But, with larger environmental and social implications of buying new, along with a growing knowledge of just how good vintage pieces can be, luxury shoppers are increasingly turning to secondhand experts to find the most exclusive vintage pieces. Enter London-based boutique William Vintage, whose new collection on MATCHESFASHION is the e-retailers first foray into entirely vintage-sourced collaborations.
"Wearing vintage is the ultimate sustainable proposition," William Vintage's CEO Marie Blanchet tells TZR via email. "It's investing in a piece of fashion history, a piece with a story, a piece that is unique, that no one else will wear." But, just because the pieces may be 50 or 60 years old, doesn't mean they feel outdated or need to be treated like museum relics. In fact, many of the pasts' biggest vintage trends are back in favor all over again.
Blanchet insists that the London-based store sources styles that are meant to be worn with modern pieces, and ultimately may last longer than new purchases, simply because of the quality. "The ambition is to create a look for the contemporary moment with vintage fashion," she explains. At a time when many wardrobes center around pieces purchased from the same handful of stores, vintage offers an opportunity to wear a trend in a way that no one else can replicate.
So what's the process of acquiring what are often one-of-a-kind secondhand pieces? Blanchet explains that it's a bit like treasure hunting: "We end up finding some of the most special pieces in places you'd never expect." Often, owners of the items will get in touch organically when they're finally looking to part ways with their past purchases.
Once they're looked over by the experts — including Blanchet herself — the most unique pieces have the chance to enter the closet of an entirely new owner. "Marie is unrivaled when it comes to her ability to source the most interesting and iconic vintage pieces," Natalie Kingham, MATCHESFASHION's Fashion and Buying Director says via press release. "I know our customers are going to love buying and wearing her specially curated edit."
If you're curious to shop (or even just take a look at) some of these ultra-special vintage finds, shop a selection from the special edit below below it's sold out entirely.