This All-American Fashion Trend Is Now In Every It-Girl's Closet
Don Stahl/WWD/Shutterstock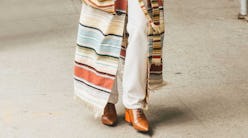 The American southwest has always been ripe for inspiration. There are thriving art communities, breathtaking national parks, storied small towns, unparalleled landscapes, historic roads, and everything in between. It's little surprise that creative communities have nodded toward this corner of the country over the decades, especially as it pertains to fashion designers. For the Spring/Summer 2019 runways, iconic houses and buzzworthy newcomers alike sent models out dressed in pieces that fit into the current southwestern fashion trend. Ralph Lauren Collection's 50th-anniversary event featured interwoven fringed knits cinched at the waist with concha belts. Coach 1941 included patchwork denim dresses accessorized with sand-colored suede booties. And of-the-moment label Brock Collection showed ruffled full-skirted separates in sunset hues that felt like a subtle homage to both Georgia O'Keefe and Frida Kahlos' inimitable likeness.
The unmistakable look of the southwest is an amalgamation of its indigenous and neighboring communities. NYU Steinhardt Graduate Costume Studies Professor Daniel James Cole explains that many traditions go across the border. "As you work your way down into Mexico you see a lot of similar patterns until you end up with something like the Serape style and that area of post-colonial Mexico working its way up to the southwestern United States."
The conversation of misappropriation is often a topic that arises when focusing on fashion in this part of the United States. Though there are numerous gray areas Cole's dividing line is "if you can identify something that you're inspired by and evaluate that it is of genuine spiritual or ceremonial value to the culture you're taking it from then you shouldn't be taking it." Obvious choices that fall under this umbrella include the war bonnet of the American Plains Indians Nations. However, when it comes to references such as textiles and accessories like concha belts and turquoise it becomes, well, grayer.
"When we're talking about patterns, much of the weaving in the southwest was done by the Navajo, Zuni, and Hopi tribes that were doing these weavings often to sell in order to support themselves in which case they were actively offering them to tourists or nearby caucasian American neighbors at the same time as they were wearing them too," Cole adds. "If I were to be using one as design inspiration I would want to find out if there was any aspect of the design that had a spiritual quality to it and try to avoid that."
Specifically, with patterns, Cole elaborates that "exchanging across cultures both from east to west and the colonized to the colonizers has been going back and forth for centuries." He uses the example of the late 19th and early 20th century when the reservation system was being implemented Navajo blankets were being created specifically for tourist trade. "There's one with a locomotive train as a motif in a Navajo blanket; so the Navajos are getting their motif in that particular situation from the white colonizers. It is a back and forth."
Turquoise is a gemstone that is typically associated with the southwest and, as Cole explains, is indigenous to the area.
Another iconic accessory of the southwest is the silver concha belt, which interestingly enough "was something that probably came originally from the Spanish and then was absorbed into the southwestern wardrobe," Cole says.
All of this to say, it's evident that the southwest with all of its complexities is somewhere worthy of admiration and respect. And when executed thoughtfully and consciously, can be a great place to take fashion inspiration from, which if recent street style is any indication, will continue to happen in the months to come.
Need a bit of advice on how to wear? Stylist Laurie Trott recommends to approach it with balance in mind. "You want this look to feel modern, not like a period piece," she says. "The best way to do this is by styling with polished separates." She recommends "a tooled metal concha belt styled over a black or cream suit jacket. If the item is denim, make sure the accessories are polished, like a kitten heel as opposed to a worn-in leather boot." If you're feeling especially adventurous, go for the unexpected, Trott adds. "like styling a necklace with a lace dress from Christopher Kane."
Ahead, more designers and street style stars taking inspiration from the southwest and product picks to adapt the aesthetic into your own wardrobe.
Swap out your cheetah and zebra prints for the time being and test drive a cow pattern in a bold piece, like a jacket or pair of trousers.
Take your denim-on-denim pairing to new heights with the easy addition of a statement accessory.
You're likely already privvy to the fashion world's current obsession with cowboy boots; hop on the bandwagon and join the fun.
For a low lift, high effect kind of look, layer a patterned cardigan over a denim-on-denim duo and finish it off with a pair of leather boots.
Embrace the artisanal side of the southwest with a patchwork dress. It'll feel artistic and laid back.
Western-inspired shirts and the ilk are all smart investments but if you're looking for something you can use on a daily basis consider a bag that gives off a southwestern aesthetic.