This '60s NYC Style Icon Is The Perfect Inspo For Going Out
Court Prods/Kobal/Shutterstock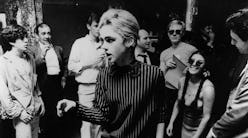 Edie Sedgwick is one of those underground style icons whose brief presence so impacted the cultural zeitgeist of her time that her unique look has only become more mainstream over the years. The California socialite made her way to New York City in the '60s and quickly became a regular at Andy Warhol's factory. As an artist, Sedgwick starred in several of his films and became recognized for her silvery pixie hair — cut and dyed to look like Warhol — and noir eye makeup. Edie Sedgwick's style centered around night-out dressing. She wore leotards with tights and heels, was rarely seen without her signature chandelier earrings, and cultivated an original look that was so intriguing at the time, she continues to serve as a reference for the youthquake fashion scene.
Since the Studio 54 heyday, there have been several revivals of '60s style centered around trends like glam shift dresses, Beat Generation stripes, and even Sedgwick-inspired makeup. Remember Marc Jacob's Spring/Summer 2013 collection for Louis Vuitton that was inspired by Sedgwick's mod look? The graphic shift dresses and eyeliner alike were inspired by the icon. For this summer, if you're looking to add an air of mystery to your after-hours aesthetic, you may want to consider turning to Sedgwick as your style muse. As previously mentioned, she nailed the whole It-girl thing during an era chock-full of icons, so taking a few tips from her playbook might be a smart idea. Ahead, discover five straightforward approaches to letting Sedgwick's iconic style inspire your going-out looks.
Sleek & Simple
Ask anyone who's long admired Sedgwick how to dress like her and you'll likely get this response: jumper, leotard, and tights. The simple combination was presumably inspired by her years as a dancer and the simple-yet-alluring formula isn't something you see all that often anymore. Just add a pair of low heels and you've mastered the look. Plus, it's great for summer when temperatures are warm during the day and breezier at night.
Larger-Than-Life Earrings
Sedgwick's accessory of choice was a pair of bold chandelier earrings that stood out against her pixie haircut — and they work oh-so-well. The statement jewelry pick is a no-brainer if you want to swiftly take your look from day to night and glam up even simple wardrobe staples.
Something Splashy
Though Sedgwick mastered the art of making simple pieces stand out, she also mixed in a few fun statement styles for after hours, like a feather boa or this metallic matching set above. Embrace the retro NYC look by opting for sleek styles with a bit of flourish.
Bold Beauty
Though largely-recognized for her imitable personal style, Sedgwick is perhaps even better known for her signature beauty staples and unique accessories. Her silvery blonde pixie, dark brows, and dramatic eyeliner created an aesthetic that was all her own. Recreate her lined eyes and bold lashes for an evening out.
Mod Separates
Sedgwick's mod-inspired style fit well into the context of the '60s art scene in New York City. Replicate this aesthetic with pieces like mini shift dresses, Mary Janes, and perhaps even a pair of satin gloves.