The Up-and-Coming Designer You're About To See Everywhere After Fashion Week
Photo: Bridget Fleming, Courtesy of Claudia Li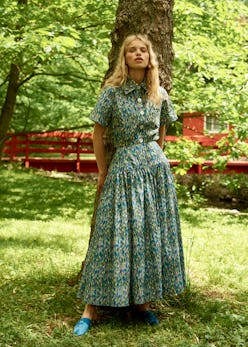 Some say New York Fashion Week has lost its luster. A number of heavyweight designers have left the schedule to show in Europe: Victoria Beckham is the latest to pull a city swap and will be showing in London this season; Alexander Wang chose to show at an entirely different time of year; and big-name labels like Derek Lam, Diane Von Furstenberg, and Rag & Bone have scaled back to private appointments instead of a full-blown show. Tommy Hilfiger literally went so far as to kick off the traditional four-city fashion month tour with a splashy see-now, buy-now show in Shanghai. But some still consider fashion month's first city to be a prime opportunity for emerging talent, like on-the-rise designer, Claudia Li, whose first-ever runway show helps substantiate the circus that is NYFW.
Those designer switch-ups, which may spin rumors of a post-Fashion Week industry, have ultimately freed up prime spots on the official NYFW calendar, creating more visibility for younger talents whose slots may have otherwise been skipped over due to a jam-packed schedule — like Li, who now calls New York City home.
"Claudia Li [the brand] was 'born' in New York City," 30-year-old Claudia Li tells TZR of her eponymous label. "NYFW will always be a special place for [it].
With a background in art and music, Li creates the type of clothes that appeals to the sartorially directional — aka those whose tastes veer slightly left of center. Structured silhouettes and exaggerated shapes are what initially catch your eye, but it's the clever and considered details that really draw you in whether it's a smartly off-kilter dress, asymmetrically leaning skirt, or crisp suit with cropped proportions. It's a kind of juxtaposed genius that many designers strive for with their work, but find incredibly challenging to master at a young age.
"I come from a family of artists, musicians, and art dealers. I was a musician before a painter, and a painter before a designer, so music and art are a part of who I am as a person and as a good designer," she says.
The designer was born in China and raised in Singapore and New Zealand where she began her fine arts studies in Auckland, and got her Bachelor's degree in Beijing. Later, she moved to London to transition into design. It wasn't until after she enrolled in classes at Central Saint Martins and studied under JW Anderson — who personally reached out to her after seeing her portfolio, according to Fashionista — that she realized moving to New York to pursue her MFA in Fashion Design and Society at Parsons and launching her own label was her ultimate goal. An internship with designer Brandon Maxwell at Haus of Gaga during this time sealed the deal.
"I wanted to build something of my own and challenge myself to start a business where I could still express myself as an artist," Li tells TZR, adding that during her time in London, her father asked her to work for him as an art dealer which would have conceivably been a much easier path for her. "That is not what I want for my own life — I've never settled for comfortable," Li says.
While Li has shown in presentation format for the past seven seasons at NYFW, the designer wanted to step outside her comfort zone with her Spring/Summer 2019 collection.
"Although our presentations have always been very beautiful, I feel like we've been creating this pristine dream-like world for guests and I've been hiding inside it," the 2017 International Woolmark Prize finalist explains of her choice to move to a traditional runway show format, which will show Sept. 9 at Spring Studios in TriBeCa, the unofficial venue for big-name shows. It also means the audience — buyers, editors, and stylists, mostly — will get to see the clothes in motion. Think architectural dresses and blouses, outerwear that's oversized yet precisely tailored, and offbeat skirts with a ladylike feel — all in a palette that ranges from austere neutrals to splashy solids and whimsical prints, if her Fall/Winter 2018 and Resort 2019 collections are indicators, that is.
"This season I want to be very bare, honest, and raw. Just a plain white room, an audience, and movement of the clothes," Li says. In previous seasons, she's commissioned Instagram-worthy sets from wooden sculptures to floral displays made up of thousands of flowers and hand painted cubes. But her newfound focus on honestly ultimately served as inspiration for her upcoming collection.
"I thought a lot about home, the kindness of the people of New Zealand, the clouds, the flowers, the air, and my bedroom that's right next to my mother's garden. I also brought back denim — we had given denim a little bit of a rest for two seasons but I think it's time to bring it back."
While it's evident Li deeply immerses herself in the creative process, she's pragmatic about her business, too. "In the future, I see Claudia Li growing into a global business," she says, adding that a short term goal is to expand into new categories, including handbags. "We've tested [them] before and we are confident that it's a category we can really excel in," Li says. Her foray into accessories started with shoes which have ranged from printed satin slippers to minimal block-heel mules with delightfully odd pull-tab detailing.
Her approach to bags will surely be just as pristine and directional as her ready-to-wear and shoes, though not without her signature nuance — we predict clean lines, strong geometric shapes, and both quirky and exaggerated accents like brightly colored topstitching or an oversized metal closure — which has charmed more than a few big-name, luxury retailers — not least of which is Moda Operandi, one of the first to back the designer and is continuing to do so for Fall/Winter 2018.
"We are thrilled to launch Claudia Li again this fall," says Elizabeth Leventhal, general merchandise manager of Moda Operandi, who also mentioned that the retailer is always looking to support emerging talent. "We're confident that her fall offering will resonate with our clients looking for her whimsical style. We're excited to see how Claudia continues to channel her background in fine arts to develop gorgeous, well-made collections."
And Victoria Wong, a buyer at Olivela — a philanthropic retailer that donates twenty percent of every sale to one of their partner charities — says Li's artistic and cultural background has made her collections exciting to witness over the past several seasons.
"I think all of us as shoppers are trying to find that something special and something that nobody else has. It's that feeling of excitement when you're the first to discover something new, and I think that's where Claudia Li, as with a lot of other emerging brands that we carry, come in," Wong says.
Having such influential retailers backing her line is major, but Li also finds the influencer movement to be a positive one for her business and considers them a worthwhile investment as an emerging brand.
"A lot of influencers are so creative and they have a different language as to how they weave Claudia Li into their looks and make it their own. I love the connection they make with the pieces and how they translate them in their own way," she says. Counting myriad industry insiders as fans, Li's pieces have also made their way onto the likes of Bella Hadid and Yara Shahidi. Talk about influence. So in addition to her first-ever show, keep an eye out for a smattering of Claudia Li pieces on the street style scene, too.
Still, it often takes designers several seasons to fully hit their stride, and while Li has had an impressively strong start with her namesake label, this NYFW week is the dawn of an extraordinary moment for the designer. And that's reason enough to get excited.