If You Suffer With Adult Acne, This Lotion Works Wonders
S. Alemdar/Getty Images Entertainment/Getty Images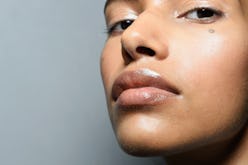 Lately, retinol seems to be the buzzy ingredient on everyone's lips — and on everyone's skin. It's known for both preventing fine lines and clearing blemishes, and beauty brands are banking on this dual-action power to sell an influx of new over-the-counter retinol products (like Drunk Elephant A-Passioni Retinol Cream and Sunday Riley A+ High-Dose Retinoid Serum). However, dermatologists say that if fighting acne is your main goal, you may be better off with a prescription cream than an OTC retinol — and the just-released Altreno lotion, a prescription acne medicine and member of the retinoid family, is making it easier than ever.
In order to grasp how groundbreaking Altreno really is, you need to have a basic understanding of retinoids, a category of vitamin A molecules. "Over the counter versions of retinoids include retinol, retinaldehyde, and retinyl esters like retinyl palmitate," Dr. Joshua Zeichner, a dermatologist with Zeichner Dermatology in New York City, tells The Zoe Report. "These are primarily used for anti-aging benefits." Of these, retinol is the most commonly used.
Certain retinoids can also target acne — in this case, tretinoin is the most effective. Tretinoin treats, prevents, and clears blockages within the pores that lead to pimples, and it also helps calm inflammation in the skin. The major difference between retinol and tretinoin? "Retinol is an over the counter ingredient that converts to retinoic acid in the skin," Dr. Doris Day, a dermatologist based in New York City, tells TZR. "Tretinoin is retinoic acid."
Basically, the act of converting retinol into retinoic acid "softens the blow" to the skin, which is why retinol is available as an over-the-counter treatment. Tretinoin, as a straight-up acid, is only available via prescription.
"It's been used for decades to treat acne," Dr. Zeichner says. "But the problem with tretinoin is that it commonly causes irritation, limiting its use." Typically, patients using tretinoin experience dryness, redness, and peeling while their skin adjusts to the medication. This was the driving force behind the launch of a new prescription-strength tretinoin product, Altreno, which pairs the powerful ingredient with a soothing lotion for the first time ever, to stop inflammation before it starts.
"Altreno is exciting because it delivers the effectiveness of tretinoin but is much less irritating because of its novel formulation," Dr. Zeichner tells us.
It's also specifically designed with women in mind — which makes sense, considering that 85 percent of adult acne patients are women, a large portion of whom struggle with hormonal acne. "Many women with hormonal acne may not have elevated hormone levels, but rather are extra sensitive to normal levels of hormones," Dr. Zeichner explains. This is known as hormonal hypersensitivity. "These hormones stimulate oil production in the skin, blocking the pores leading to acne."
This type of acne usually presents as stubborn bumps on the jawline, and "it's usually worse around your period," Dr. Day tells TZR. Even though hormonal acne is notoriously hard to treat, "Altreno works well for adult acne and my patients have found it to be well tolerated," she says. In clinical trials, Altreno was shown to reduce acne in just four weeks (with best results — a 50 percent reduction in acne — at 12 weeks, per the brand). The most common side effect, dry skin, was only seen in 4 percent of patients.
In the formulation stage, Altreno also wanted to address another common problem with retinoids: Most of them are rendered inactive by UV light, meaning they're basically useless if used during the day. Alterno, in contrast, stays active despite being exposed to UV light. "They did stability testing to show this," Dr. Day tells us — which is just one of the reasons Altreno may be the retinoid you're looking for.
Since it's prescription only, trying the revolutionary lotion for yourself requires a trip to the dermatologist where you can weigh the pros, cons, and usage instructions with your doctor. Altreno doesn't go through insurance, however, so it should be a pretty hassle-free process to get your hands on a tube. Customers simply pay a flat fee of about $115 for a three-month supply — no insurance battles necessary.