Whistles Just Created The Perfect Swimsuit For Minimalists Who Love The Animal-Print Trend
Whistles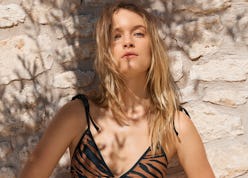 With July just around the corner, there's a chance you've already spent a good portion of the year stocking up on swimwear for summer. However, if you're the type of person who feels they could add more to their selection, there's always time for shopping. And you're in luck: Whistles' summer swimwear collection is full of sleek and stylish options to choose from.
The latest swimwear from the London-based clothing brand is perfect for any minimalist — no matter where you fall on the spectrum. From updated versions of classic silhouettes to vibrant colors and versatile prints, Whistles' summer swim collection features bathing suits, bikinis, and ready-to-wear pieces for all your activities this season.
According to the description on Whistles' website, the brand's swimwear is meant to be worn with "oversized sunglasses and elegant sandals." However, if this year's swim trends have proven anything, it's that you can also wear your swimwear as regular clothes. So, style one of Whistles' pretty bikini tops with a high-waisted midi skirt for your next tropical getaway or wear a cool one-piece with skinny jeans for a night out — there's no doubt the swim collection is full of pieces fit for your summer wardrobe.
For the minimalist who loves to add visual texture with classic animal prints, the $169 Zebra Print Swimsuit is for you. Wear it with a linen midi skirt and espadrille wedges when you're going to and from the pool. And if you want to sport a swimsuit with a touch of color, you can't go wrong with the $80 Animal Square Neck Bikini Top and the matching Animal Print Bikini Bottom, also $80.
If you want a swimsuit that'll transcend the trends of today, opt for the Strappy Bikini Top and Bikini Bottom, which both cost $69. With the clean lines and spaghetti straps, this bikini feels reminiscent of the '90s while also staying current. Of course, if you want to go even further with vintage-inspired options, the $149 Tort Ring Square Swimsuit teems with the essence of 1950s swimwear.
Ready to start shopping? Scroll down to see more pieces from Whistles' summer swim collection below.