What's In Rachel Zoe's Spring 2020 Box Of Style?
Box Of Style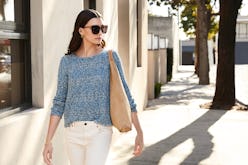 If there were one word to describe the Spring 2020 edition of Box of Style, it would probably be reinvigorating: Reinvigorating your skin, your wardrobe, your rotation of outfits. That's exactly what Rachel Zoe had in mind when she curated this quarter's products, which were chosen to make your post-winter fashion and beauty overhaul feel simple and fresh. So what is in Rachel Zoe's Spring 2020 Box of Style? Keep reading to find out.
In this quarter's Box of Style, you'll find over $400 worth of luxury products — despite each box only costing $99 (or $350 for all four, if you choose to go the annual subscription route). Highlights include a transitional tote in the perfect warm-weather shade, a chic pair of oversized sunglasses (in your choice of frames!), and a gorgeous gold bracelet from a sustainably conscious brand. On the beauty front, you'll receive two full-sized goodies from Erno Laszlo and R+Co, both of which can seamlessly be incorporated into any existing skin- or hair-care routine.
And if you're new to Box of Style, don't forget that annual members receive a few extra perks, like an exclusive anniversary gift, free shipping on their first box, and more. You can also choose to gift a box to a friend by choosing the one box plan, or refer a friend and give them $25 off their first order (you'll get $25 off your next box, too).