'Box Of Style' Is A Luxury Subscription Service That Delivers $400+ Worth Of Luxury Goods For Just $99
Box of Style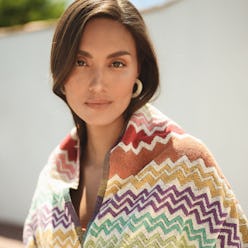 Once the fashion set's best-kept secret, Rachel Zoe's Box of Style has outdone itself once again with its latest box for summer 2019. This season's box contains three chic warm-weather staples and two essential beauty products for sweaty, sunny days. Curious as to exactly what's in Rachel Zoe's Box of Style for summer? We delve in below.
Staying true to its ethos of valuing timeless staples over trendy pieces, the summer box contains three versatile accessories you'll wear for years to come: a pair of elegant tortoiseshell earrings, a gorgeous crochet bag, and the ultimate summer statement piece, a Missoni beach towel. As for the beauty products, you get two best-sellers from prestige brands Benefit and Glo Skin Beauty.
For those who aren't already subscribers, here's the lowdown: Each Box of Style comes filled with five luxurious fashion and beauty goodies curated by Rachel Zoe herself. And since each box retails at well over $400, but only costs $99 (or $349 for all four with an annual membership), you actually wind up saving a ton of money on splurges you'd make elsewhere. Plus, in addition to saving $50, annual members will also receive a free Amazon Echo look to organize your wardrobe and style outfits digitally, as well as a bonus anniversary gift with their fourth box.
Ahead, check out everything you get in this summer's Box of Style.