Wear This To The Next Summer Rehearsal Dinner You're Invited To (& Thank Us Later)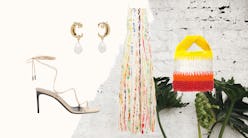 It wouldn't be summer without being forced to sacrifice a few vacation days and paychecks in the name of attending a friend's wedding. While your outfit for the main event typically preoccupies your thoughts for the preceding weeks (or even months), the rehearsal dinner outfit is often left to the last minute. Since you'll likely be making your first impression at the event, it's important to be both celebratory and respectfully put together, but it's also an opportunity to showcase your sartorial inclinations. Who doesn't enjoy a chance to dress up?
Opt for something elegant yet punchy, like this Rosie Assoulin dress, as the foundation for your look. The pleated cotton fabric is breezy enough for even the most sweltering affair without looking casual. The silhouette pairs best with minimalist sandals (extra points if you can rewear them for the ceremony, thus salvaging a little extra suitcase real estate). Underscore the vibrant hues of the dress with an eye-catching beaded bag, like this multicolored style from Truss, which is made by hand by women artisans in Oaxaca, Mexico, and benefits the education nonprofit Fondo Guadalupe Musalem in the same community. Round out the look with a pair of sculptural pearl-and-gold earrings. There's no reason why dressing up for the rehearsal dinner can't be as fun as getting decked out for the wedding itself — especially when you have these pieces in your wardrobe.
The Dress
A skirt with a little extra volume carries just the right amount of drama that an event like this requires. Count on the watercolor-like pattern of this Rosie Assoulin number to mesmerize. Find similar dress styles here.
The Shoes
Creamy, square-toe sandals feel especially current right now. This pair by Saint Laurent are sleek without being too delicate. It's available in different colors here.
The Bag
Made with thousands of cascading glass beads, this Truss bag is more than just an accessory — it's a showstopper. It will give you something to talk about during that inevitable lull in conversation at dinner.
The Earrings
A simple, elegant earring that still manages to make a statement — there's no better way to round out your look than with these baubles by Chloé.