Here's Exactly What To Wear On Your Next Ski Vacation
Courtesy of Net-A-Porter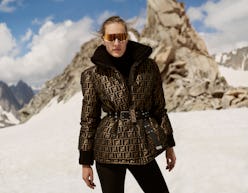 Whether you're headed to a chalet in the French Alps, St. Moritz in Switzerland, the mountains of Whistler, or a lodge in Aspen, figuring out what to wear on a ski vacation is a crucial part of winter wardrobe building. Regardless of whether you're a skier, snowboarder, or an avid snowshoer, a trip somewhere frosty calls for warm layers and performance-proof pieces to ward off frostbite. But, it's not just about outdoor fun, après ski activities require the right wardrobe too. Whether you'll be sipping hot toddies by the fire, or sharing a warm meal with friends, cozy sweaters and fleece jackets will surely fit the bill.
So, what do fashion industry experts consider the key pieces pieces when packing for a snowy trip? Below, you'll find a breakdown of brands that are leading the way when it comes to sartorially sound snow gear. That ski jacket you bought in college? Yeah, it's surely ready for an upgrade. Armed with a little handy advice, you'll be ready to hit the slopes (whether they be bunny or black diamond) looking like a high-fashion pro. Read on for a rundown of the five essentials that will give your winter getaway wardrobe a boost, now you just have to get packing.
The One-Piece
Ski jackets and pants are mainstays for winter activities, but for a fashion-forward spin, an all-in-one is a stylish alternative. "This season I am loving Cordova one-pieces," says Elizabeth von der Goltz, global buying director of Net-A-Porter. "The brand's designs are inspired by icons of the '70s and you can't help but feel glamourous wearing their 'Aspen' belted ski suit on the slopes. They are not only chic but made for utmost performance, offering full flexibility and soft fleece lining to help lock in heat." Base layers and moisture-wicking knits are a must underneath.
The Performance Pant
Any trip to the snow requires a superior snow pant whether you're running black diamonds or taking the slopes by sled. A pant that cinches well around the ankles is key for keeping immobilizing snowflakes at bay. "Perfect Moment's Aurora Skinny pant is perfect for tucking into your snow boots," says says von der Goltz.
The Aprés Ski Sweater
Be honest, you know après ski activities are the most fun part of a wintry getaway — mulled wine, fireside hangs, scrumptious meals. Peak cozy! And while performance-style knits are essential on the mountain, once you retire your skis for the evening, look to trendier styles for a stand-out moment.
"This past season, knitwear was made for skiers and chalet-dwellers alike with Fair Isle and hand-knit jumpers dominating the category," says Celenie Seidel, market editor at Farfetch. "Good for both on and off the slopes, these patterned knits have a supremely cozy and nostalgic feel."
The Snow Boot
Ski boots are an obvious piece whether you rent them or have your own. But for those moments between runs, a water-proof pair of snow boots is essential. "I always complete my ski looks with Moon Boots – they really are the best and I'm excited for their new collaboration with Moncler," says von der Goltz.
The Puffer
A ski jacket isn't always the most comfortable layer en route to dinner, but an insulated coat is definitely key, like Aritzia's super puff collection which is filled with super-cool styles. "These days, there are myriad puffer-jacket options on the market," says Seidel. "These new belted styles from Perfect Moment and metallic numbers from Ienki Ienki are great for anyone looking for an alternative to traditional performance wear." For something less flashy, a simple quilted jacket does the trick and is easier to pack in a suitcase. "I layer on my TEMPLA quilted jacket," says says von der Goltz. "I'm a big fan of this brand as it is equally stylish and practical."