If Your Summer Plans Include A Day On A Boat, This Is The Exact Outfit You Need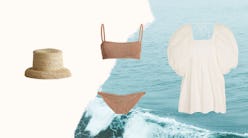 There are a few things to keep front of mind when you're invited aboard a vessel in the summer and are looking for the perfect boating outfit to accompany you on your excursion. First, you should remove your shoes (or wear actual boat shoes), lest you slide off the poop deck during an unwieldy jibe. Second, you need to take sun protection even more seriously than usual, thanks to the highly reflective environment. (Remember: Cloud cover does not equal sun protection.) And lastly, there will be gusts of wind, so unless you're cool with a skirt flipping over your head, you'll want pieces that stay put.
With the boring advice out of the way, we can turn to more exciting things, like channeling classic nautical style in a fresh way. Start with a bucket hat, which is an updated alternative to the wide-brim styles that are guaranteed to fly overboard. As a bonus, it actually fits inside your bag without getting ruined. You'll also want a glamorous bathing suit on hand for an impromptu dip, so opt for a metallic bandeau style like this Hunza G version, which is made from a delightful crinkle fabric. Easy separates, like these high-waisted gingham-print culottes and this backless Cecilie Bahnsen top, look great when worn alone or paired with a piece of your bathing suit, giving you options throughout the day.
The Shirt
With its billowy puff sleeves and open back, this pretty white top by Cecilie Bahnsen feels both airy and architectural at the same time. In other words, it gives off the exact vibe you're going for during a day out on the boat. See similar styles at Cecilie Bahnsen.
The Pants
Madewell's wide-legged pant starring a checkered print takes you from shore to sea with ease, all while keeping you firmly anchored in comfort.
The Hat
Sometimes, sunblock just isn't enough. Fully armor yourself against those UV rays with this bucket hat by Janessa Leone, which offers up equal amounts shade and style.
The Swimsuit
A day on the water isn't complete without at least one quick jaunt in the water — make sure you suit up underneath your outfit to take full advantage of your time at sea. Even if you're not up for a swim, this Gigi Cocoa bikini set by Hunza G is ideal for soaking up some sun on the deck.