What To Wear For A Night Out When It's 40 Degrees
Dvora/Shutterstock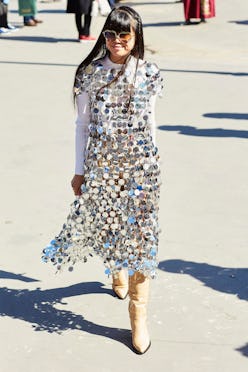 Perfecting the art of party-ready dressing on a brisk night out can be a tough feat to accomplish, especially if you don't want to sacrifice your sense of style in order to stay warm. The key factor to maintaining your signature look this season starts with thinking outside of the box when it comes to figuring out what to wear for a night out. It may be cold outside, but with the right fuss-free outfit combinations, you can still serve some serious looks when you hit the town.
If you're looking to pull off a killer party ensemble this fall, you'll want to look to the past for a little bit of inspiration. The decadent fashion that defined that revolutionary '60s, and the high-octane glamour of the '80s are back, so channel them — even if Studio 54 is long gone. Opt for separates in lustrous metallic finishes — like a pale gold blouse, and clashing silver trousers — '60s-inspired beading, and gleaming embellished dresses too.
And to finish off these eye-catching looks, bold accessories make all the difference. Whether dressing for a fashionable fete, or heading out on the town for a first date, it's all in the details. Swap standard black pumps or kitten heels for styles in striking shades, then add on a pair of statement earrings and a fun clutch.
Ahead, you'll find the groundwork on what to wear for a chilly night out with three cold-weather looks that don't require all that much effort to pull off. They may look dramatic, but getting them together is anything but.
Experiment With A Dramatic Sleeved Knit And Leather Pants
One way to turn heads without having to put in much effort is to opt for a top with fun, feathery details. Tufts of soft feathers move with you in unexpected ways when you take a turn on the dance floor. Throw on a buttery pair of leather trousers, and statement pumps with eye-catching details for a look that beats the winter chill. With all eyes on your colorful plumage, try keeping the accessories the minimum; instead, go graphic with a pint-size mini bag.
Master The Art Of Mixing Metallics
Set the gold standard when hitting the town by mastering mixing clashing metallics like a high-shine blouse, and lustrous silver trousers. Fully embrace the new take on '80s glamour, by adding a pop of color with a boldly hued pump, and if the weather calls for it try tossing on a vinyl trench coat for a polished look with edge.
Layer A Neutral Knit Over A Sequin Skirt
Here's proof that subtle, almost cool-toned neutrals like soft khaki can blend seamlessly with eye-catching metallics. Try your hand at wearing a silver sequin skirt — then coordinating it with your shoes. Before heading out for the night, throw a chunky knit on over a sheer turtleneck top. The resulting outfit is equal parts cozy and cool, making it an ideal outfit option for chillier nights.