The Unexpected Wellness Trend That Can Help You Sleep Better (That You've Probably Never Tried)
Shutterstock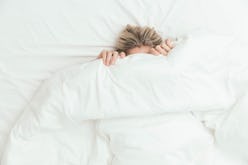 With self-care methods becoming a regular part of daily routines (and for good reason), there are options galore when it comes to rejuvenation and relaxation. Now, weighted blankets are having a moment, and while they're not new in the world of natural wellness and occupational therapy, these calming linens have become mainstream. So, what's the deal with weighted blankets — and why are they considered the new essential in self-care?
For starters, they may be different from what you'd expect. Although the name is somewhat self-explanatory, these hefty comforters are more than just thick fabric (although, there are exceptions). Usually constructed with a quilted design, there are beads sewn into each square for top-to-bottom weight distribution. And, we're not talking a few pounds here; most blankets weight between 10 and 25 pounds (there are options with lower and higher weights, too). For many, the physical pressure is comforting and can promote relaxation, focus, better sleep, pain reduction, and more.
Ahead, health experts weigh in on the science behind this trend and share potential benefits and possible downsides of snuggling up with an extra 10 to 15+ pounds. From pros and cons to different options on the market, if you've been thinking about getting in on the latest wellness craze, be sure to read this first.
Why Weighted Blankets Are Therapeutic
If you've ever crawled underneath a pile of quilts and felt cozy as a bear cub during hibernation, you've experienced a similar type of comfort that weighted blankets can provide. But why is this sensation so calming?
"Weighted blankets allow for an increase of sensory input, specifically to our proprioceptive system," explains Hilary Baker, a pediatric occupational therapist, MS, OTR/L. "Proprioception is our brain knowing where our body parts are and how they move about our daily routines; [it] can be provided in a variety of ways including deep pressure. A weighted blanket allows for a 'big hug' (deep pressure) to be applied to the entire body and increase the 'regulation' (calming state/ mood) of that person."
That hug-like pressure, she says, releases serotonin and dopamine, which can help ease users into a state of relaxation. "These neurotransmitters make us feel happy and calm, even during stressful situations," she says. "They are also able to help us increase our attention during [this stressful] situation."
How A Weighted Blanket Can Help
All considered, this self-care tool can help soothe a host of symptoms, whether you're simply in need of some stress relief or you're living with a diagnosed condition (in conjunction with any other doctor-recommended treatment, of course). "These blankets are recommended for those with insomnia, high amounts of stress, chronic anxiety, PTSD, physical pain in muscles (fibromyalgia), ADHD, or other issues with focus to calm the brain," says Molly Sommerhalder, a certified yoga trainer, certified wellness coach, and owner of Swan in the Lotus Yoga and Wellness.
Aimee Schrank a certified master wellness coach and founder of Aimee Schrank Holistic Coaching, agrees. "As a holistic lifestyle coach, I recommend weighted blankets for those struggling with anxiety, depression, sensory issues, ADHD, PMS, and restless leg syndrome (RLS)," she shares. "It's great for anyone that has trouble calming their mind at the end of the day, and for those that struggle to relax, in general." Speaking from personal experience, she adds, "For my teenage daughter and myself, they have been fantastic for minimizing some of the unpleasant symptoms that accompany PMS, like moodiness, irritability, and anxiousness."
Possible Downsides
These potential prescription-free benefits of using a weighted blanket are certainly appealing, but Schrank warns not to expect a miracle cure. "To be thorough when addressing any issue, it is best to look at all of what is causing or contributing to the underlying unpleasant symptoms and chip away at those, as well. What I like about weighted blankets is that they can offer immediate relief while we take the time to [work on the] other issues."
There's also no guarantee that the heavy layer will provide any relief at all — quite frankly, everyone is different. "Those with claustrophobia may not like the weight of the blanket," Sommerhalder points out. "They might feel an overwhelming sensation, but they could use the blanket slowly at first to get used to the weight."
Further, while it may help you sleep better through the night, if you do have to change positions, it's not as easy to shift with all those extra pounds on top of you. And if you get hot? You can't just toss a it off like you would a quilt; it takes a bit more effort. But if taking a weighted blanket to bed with you does more harm than good, try draping it across your lap while you're watching TV, reading, or meditating — perhaps before you go to sleep, if insomnia is an issue — and you'll still reap some relaxation benefits.
A final point to note is to use extreme caution when using weighted blankets with children; always consult with a doctor and/or occupational therapist first. These should not be used on infants, as it can increase the risk of SIDS, or even pose a choking hazard if any of the pellets spill out. "If a weighted blanket is too heavy and a child needs help removing the blanket, this would not be safe as it could lead to problems at night if that child needed to get out of bed," adds Baker. "This is why the weight is important and specific for each individual."
Choosing The Right Blanket For You
Ready to give the latest self-care trend a try? With so many options on the market, you'll find a weighted blanket that checks all your boxes, if you know what to look for.
Weight: Most brands offer several different weights that increase in increments of five pounds. The general rule of thumb is to use a blanket that's roughly 10 percent of your body weight, but at the end of the day, it really depends on your preference.
Material: Let's face it: A weighted blanket is going to be heavy. That said, there are plenty of versions made from cooler fabrics that are more suitable for year-round use. Prefer something cozier? Check out some fleece options to keep off the chill.
Beads/Pellets: The weighty filling is usually made from either glass or plastic, and truthfully, they both do the job. However, tactile users, especially those who like to fidget with their hands, are more apt to have a preference for one over the other. Glass tends to cascade more smoothly than plastic, which also leads to quieter movement. For those who try keeping their home goods as pure as possible, check that plastic beads are non-toxic and BPA-free and glass beads aren't made with lead.
Size: Do you want a portable lap blanket or a cocoon to cover you from chin to toes? Keep in mind what your intentions when choosing a size. Just remember, the bigger it is, the more bulky it will be to carry around.
Washability: Many weighted blankets are washer and even dryer safe, but they'll definitely clunk around during the drying cycle. You can always opt for air-drying, or look for blankets that have removable covers for when it's time for a wash.