Weleda's New Skincare Collection Will Be A Cult Hit For Anyone With Oily Skin
Weleda/Instagram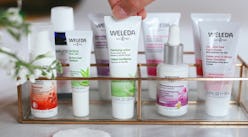 Skincare collection drops have become a rare beast. As the industry continues to boom, products are introduced one at a time, with a spotlight shining exclusively on them. For the most part this benefits consumers; it lets you consider if you really need to add a new toner or moisturizer to your already established routine. But there's a certain magic to be had when an entirely new lineup is unveiled — such as Weleda's new Clarifying Facial Care Collection, a product suite designed for oily and combination skin types that dropped Nov. 4. There's no guesswork, no wondering how a new product will play with everything else. And better yet, you can buy Weleda's complete new collection for under $70.
Is this your first time hearing about the beauty brand Weleda? Prepare to meet a new best friend. Creator of the Skin Food moisturizer — a $19 cult favorite endorsed by Victoria Beckham, Stella Maxwell, and Rihanna — the clean, cruelty-free skin and body care brand balances organic ingredients with affordable, accessible prices.
Case in point: The new Clarifying Facial Care Collection's $19.99 Clarifying S.O.S. Spot Gel. Clocking in at just under $20, the clever spot treatment is formulated to calm irritated skin the moment you dab it on. Oh, and it can be layered under your makeup, unlike other treatments that are reserved for overnight usage — Weleda's new spot gel dries down without a trace.
Likewise, the new $19.99 Clarifying Gel Cleanser will fit right into your routine without breaking the bank. Although it was created specifically to cleanse oily and combination skin (and remove any traces of makeup), the face wash is spiked with nourishing ingredients to help keep your skin in balance. You can thank jojoba oil, babassu oil, and willow bark — an antioxidant-packed ingredient that both aids your skin's natural barrier and helps even out its tone.
To complete the set, pick up Weleda's Clarifying Lotion. It's a bit more expensive than the other two pieces — but well worth its $27.99 price if it's right for your skin type. The moisturizer is a serious multitasker: It cleans out pores, balances your skin tone, adds hydration, and exfoliates texture (using willow bark extract's natural BHA). Even more appealing, Weleda notes that the moisturizer leaves behind a matte finish; making it the perfect last no-makeup makeup step for those with oilier skin.
Because thanks to Weleda, your new skincare routine is just one shopping trip away. Below, Weleda's Clarifying Facial Care Collection, available on Weleda's website now and at other retailers starting Jan. 1.