Warp+Weft Just Launched An Unexpected New Category & Fans Are Going To Be Obsessed
COURTESY OF WARP+WEFT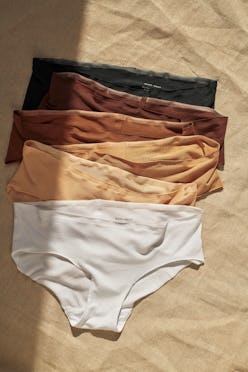 After years of testing jeans on all different body types, Sarah Ahmed, founder of the sustainable denim brand Warp+Weft, came to learn that people were all having the same fit issues with their underwear. More specifically, they were unable to find non-thong styles that didn't show panty lines. Sound familiar? If so — and if you still haven't located a pair that ticks these boxes and more — you'll be pleased to know that Ahmed took on the challenge. Thus, Warp+Weft's new underwear collection was born.
Available as of July 15, the brand's lineup of sustainable underwear includes styles for men and women. For the latter, Warp+Weft is offering up a bikini brief that may just be the answer to your top drawer woes. Ringing in for $12 a pair in sizes XS to 3XL (or pant sizes 00-24), the mid-rise, medium coverage brief is available in six neutral shades with colors that'll even work under your white dresses and jeans.
Ahmed noted in a press release from the brand that she wanted to "create underwear that would serve our customers in the same way our jeans do - in that the fit is amazing, the fabric is luxurious, uses similar sustainable technology to our denim, and is inclusive."
When it comes to the fabric, the underwear is made of a lightweight Modal and spandex blend that's naturally breathable and noted in the product description to be 50 percent more absorbent than cotton. As for the fit? The super-soft style is designed to have a seamless look that wears like a second skin. On top of that, there's an invisible elastic at the waistband that'll keep the underwear in place and laying smooth on your body. And, though it does have stretch, the brand promises the underwear will maintain its shape when washed.
For this new venture, the brand continued to follow its sustainable practices. "I think it's very simple. Underwear is the closest thing to our most sensitive skin. The idea of creating something that is sustainable, soft, and functional seems more logical than not," said Ahmed in a press release from the brand. "It's the same way how now people are so careful about the ingredients of what they consume, people think twice if things aren't organic or fresh, the same should go for your underwear."
Continue on to see Warp+Weft's new underwear style below, and head over to the site to view the rest of the colorways.