Warby Parker Has A Very Unexpected New Collection & It'll Make You Want To Upgrade Your Eyewear Immediately
COURTESY OF WARBY PARKER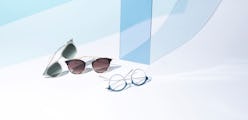 Though the days of snagging a new backpack and stocking up on school supplies are likely behind you, it doesn't mean you can't still use this time of year to upgrade essentials before summer closes out. That said, if you're in the market for new eyewear, look no further than Warby Parker's new Sesia Collection. Unveiled on Aug. 13, the wallet-friendly brand's latest collection of stylish designs will easily convince you to switch up your frames for fall.
Crafted in Italy and inspired by Varallo Sesia (a small town along the Sesia River) the collection offers up three equally fresh silhouettes in eyeglasses and sunglasses. The lineup incorporates both aquatic tones — Shoreline Crystal, Aloe Crystal, and Rose Quartz Crystal — and earthy hues — Hazelnut Tortoise, Cognac Tortoise, and Onyx Tortoise — reminiscent of the Italian landscape. This color palette combined with delicate metal detailing makes these styles effortlessly chic.
Starting at $145 a pair, the frames were specially constructed by layering contrasting acetate together and then carefully cutting away the top layer to reveal an accented color underneath. The two-tone look along with the sophisticated metalwork allows these frames to feel laidback yet polished.
Though each of the three styles features a very different shape, they all have an innate ease to them. Those who gravitate to a round lens will find the curves of Saylor to their liking, while others will prefer the smooth, squared-off cut of Devon. Meanwhile, Faye offers up a rounded, cat-eye shape that really shows off the colors of the layered acetate.
You really can't go wrong when it comes to selecting a style from this collection. And though these frames aren't currently available for Warby Parker's At Home Try-On program, the brand does have a 30-day return or exchange policy. On top of that, Warby Parker has a one-year, no scratch guarantee for its lenses, which means it'll replace your scratched lenses for free within the first 12 months after you purchase — and as any eyewear-lover knows, that's a definite bonus.
Continue on to see a selection of styles from the collection, and head over to Warby Parker to pick up a pair (or two) for yourself.