Wandler's Isa Boots Just Dropped & They Have A Distinct '70s Feel That's Perfect For Fall
Farfetch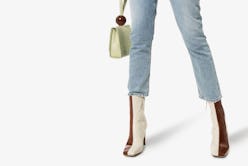 The official start to fall is only days away, which means if you haven't already started building your capsule wardrobe for the season, there's no time like the present. Perhaps you've already invested in a chic coat to wear as soon as the temperatures begin to drop. Or maybe, you're still refining your selection of polished knitwear. No matter where you are in the process, you can't ignore the fact that for nearly every chic fall outfit, there's a cool boot to go with it. And if you're currently looking for your next go-to style, Wandler's Isa Boots have just launched — and are without a doubt the touch of '70s flair your closet needs.
If you've been keeping up with your favorite fashion editors and It girls, you've probably stumbled across Wandler and its aesthetically-driven accessories at one point or another. The Dutch accessories label, which was founded by Elza Wandler has become a popular choice among those in the fashion industry for its Instagram-ready, geometric handbags and shoes (not to mention, each piece is also incredibly versatile).
As part of the brand's Fall/Winter 2019 collection, Wandler has launched the Isa Boot. Available in a diverse offering of material and color combinations, the new boot ranges from $599 to $720 and features a retro-inspired silhouette. And while you might initially be hesitant to don a bold square toe this season, you'll be surprised just how well it goes with everything in your closet.
Wear Wandler's new boot style in a classic color like black or burgundy with sleek flared trousers to put an unexpected spin on your work wardrobe. If you opt for a longer pair of pants, the square toe — which is a major shoe trend for the season — will peak out just enough to give your ensemble a unique touch. And when you want to show off the Isa Boot in its full glory, opt for an ankle-grazing dress or an A-line midi skirt.
In addition to black and burgundy, the Isa boot also comes in a couple of two-tone options — which will add visual texture to your outfits. Along with those, you can also wear the sculptural boot in two shades of green: olive and candy apple.
For those who want to maintain a subtler color palette, wear the olive green style with white trousers or a cream jumpsuit on the weekend. And if you're feeling bold, style the more vibrant shade with a pair of wide-leg jeans and a classic white or gray T-shirt and let your boots be the focus of your ensemble.
Now, scroll down to shop the different versions of Wandler's Isa Boot below.