This New Hair Oil Made Its Red-Carpet Debut At The Golden Globes (& It's Available Online)
Steve Granitz/WireImage/Getty Images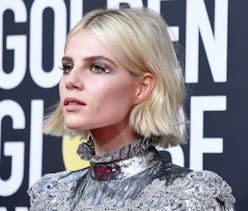 At the 77th annual Golden Globe Awards Jan. 5, there was a connection between Charlize Theron, Saoirse Ronan, Reese Witherspoon, and Lucy Boynton's hairstyles that not even the most eagle-eyed fan could've noticed. Although each of the four stars styled their pale blonde hair differently, one product acted as a thread between them: Virtue's new Healing Oil. Launched on the same day, the just-released hair oil retails for $42 a pop — and offers up a new way to imbue your tresses with Virtue's signature Alpha Keratin 60ku.
Which, as you may know, is a patented source of protein for your hair. "In all my years I've never felt a hair oil that is so silky and luxurious. This Healing Oil is an extremely lightweight, non-greasy formula that doesn't weigh the hair down. It acts as a filler that goes into the hair shaft and shuts down the cuticle. When I'm looking for a beautiful, shiny finish, this is my go to," notes a quote from Adir Abergel, Virtue creative director and celebrity hairstylist, in a press email.
And if you watched the awards show, you very well may agree. The hair oil was used as a pre-styling treatment on Theron, Witherspoon, and Boynton, whereas Abergel opted to add it at the end of Ronan's style for extra shine. "I wanted to create soft, touchable volume starting at the crown and polished rolled ends. Together, they embody such an iconic retro glam feel," Abergel explained.
Beyond the reparative keratin, the Healing Oil also offers a dose of protective vitamin E, plus the plant-based Tahitian gardenia extract and Kalahari melon seed oil. The cruelty- and gluten-free hair oil is made without parabens, sulfates, and phthalates, and is marked as safe for use on color-treated hair. The Hair Oil does contain silicones: Cyclopentasiloxane, Dimethiconol, and others.
Daniele Venturelli/WireImage/Getty Images
Steve Granitz/WireImage/Getty Images
And there's one last pro tip to keep in mind if you do grab the oil: "It shines, smoothes and it has Virtue's efficacious protein that heals while it shines," Jenny Cho, the hairstylist behind Boynton's look, wrote on Instagram. "Tip: Shake it 3-5 times to activate the oil before use." Ahead, Virtue's new Healing Oil, available on the brand's website as well as online at Dermstore and Net-a-Porter.