Viktor&Rolf Just Released The Date-Night Version Of This Best-Selling Perfume
Courtesy of Viktor&Rolf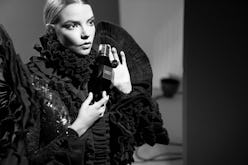 Fragrance fans probably expected that Viktor&Rolf would keep expanding its fan-favorite Flowerbomb perfume family. After all, the original feminine Flowerbomb fragrance is a classic; it has well over 3,000 perfect ratings on Sephora's website, and instantly pulls up when you search the beauty store's best-selling fragrance page. However, fans may not have seen the darker twist of Viktor&Rolf Flowerbomb Midnight coming. Expanding upon the previous pink perfume releases like Flowerbomb Bloom and Flowerbomb Nectar, the new scent is the edgier, more sensual side of the cult-favorite perfume family.
Think of it as Flowerbomb, after midnight. Instead of the classic faceted, pink-hued packaging of the original Flowerbomb perfume, Flowerbomb Midnight comes in a mood-setting black bottle; one 3.4-ounce bottle costs $165. Whereas the original Flowerbomb perfume combines the entire floral bouquet — jasmine, freesia, rose — with spicy patchouli and vanilla, Flowerbomb Midnight spotlights the night-blooming jasmine flower.
This isn't just Flowerbomb Jasmine Twist, though. The dramatic scent was inspired by Viktor&Rolf's Soir collection, a series of couture-inspired eveningwear — so naturally, it's one to dab on before date night. Flowerbomb Midnight accents the flower with vanilla, musk, and fruit, blending in both black currant and pomegranate notes for a deeper, juicier fragrance. Viktor&Rolf's perfumers also added bergamot, pink pepper, and a praline accord, as well, rounding off a full-bodied perfume that's more complicated than the average floral fragrance.
Viktor&Rolf made sure to properly credit the individuals that helped bring Flowerbomb Midnight to life, crediting four perfumers' artistry: Dominique Ropion, Domitille Michalon-Bertier, Carlos Benaïm, and Fanny Bal. Both Ropion and Benaïm are Master Perfurmers, Michalon-Bertier a Senior Perfurmer, and Bal a young perfumer who learned under Ropion. Each of the four creatives brought something distinct to the table; Ropion is known for his ability to transform floral scents, while Benaïm is an expert at contemporary fragrances. Both Michalon-Bertier and Bal have experience on the ingredients side — Michalon-Bertier even has a background in chemistry.
After all, it takes a lot of great people to make a great perfume. Ahead, Viktor&Rolf's Flowerbomb Midnight perfume, available on the brand's website and Sephora.