Victoria Beckham Beauty's First Skincare Product Is Officially Here — & It's *Good*
Victoria Beckham Beauty/Instagram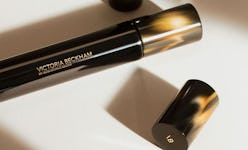 It's no secret that Victoria Beckham's lit-from-within glow has been coveted by fans for years. However, those same followers wouldn't have guessed that the star's beauty line would dabble in skin care for, well, quite some time — as you know, Victoria Beckham Beauty only launched this September (and brought with it a very impressive initial makeup drop). But now, only two months later, the entrepreneur has stepped into the skincare arena by way of an Augustinus Bader collab: Victoria Beckham Beauty's Cell Rejuvenating Priming Moisturizer, made with Augustinus Bader's signature Trigger Factor Complex ( or TFC8) technology, dropped Nov. 19.
The key word in that product title being priming. You see, the new $95 moisturizer doesn't just hydrate — it also plumps, tones, smooths, softens, and increases cell turnover, all the while acting as a base for whichever complexion products you layer on top. "It's been a dream to develop, with Augustinus, a priming moisturizer that works to improve the health of my skin and gives me that fresh, natural glow that I love," reads a quote from Victoria Beckham herself in a press email.
"It was an honor to collaborate with Victoria for her first Skin launch. I am excited to share some of our skincare benefits in this product," Augustinus Bader added. "It's the first priming moisturizer of its kind to care for your skin cells while also preparing your skin for makeup application."
Besides Augustinus Bader's TFC8 — which encourages your skin's natural repair and renewal cycles — the priming moisturizer includes a mix of skin-supporting ingredients; the most interesting being papaya enzymes, who play the role of exfoliator (one of the secrets behind the product's glow-enhancing prowess).
As you may expect, the beauty community is already very, very excited about the new drop, too. "Naturally, Victoria, the perfectionist she is, has crafted the most luxurious, clean, and well-curated beauty line. She was involved in every detail of its creation and you can tell — it's flawless," noted a quote by Cassandra Grey, Violet Grey founder and CBO. "Every single item is Violet Vanity-worthy and I anticipate the priming moisturizer, a collaboration with Augustinus Bader, will be a best-seller for us."
Which happens to be exactly where you can pick up your own bottle of the priming moisturizer. Grab the new Cell Rejuvenating Priming Moisturizer on Violet Grey's website, or at VictoriaBeckhamBeauty.com and AugustinusBader.com. Below, Victoria Beckham Beauty's latest drop.