This K-Beauty Brand Elevated The Jelly Makeup Trend With A Unique New Blush
Onnie A Koski/WWD/Shutterstock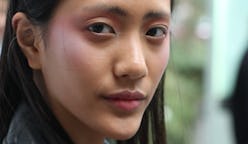 Attention beauty fans, it's time to put another emerging makeup brand on your radar. But trust that — while you may not have heard of VDL yet — it's worth taking note of; the K-beauty company is one of the top-selling makeup brands in South Korea. Making room on your vanity for it now? While there are some cult-favorite VDL products you could start with (like the mega-illuminating Lumilayer Primer, which has helped win VDL its spot as South Korea's number one primer brand) you may as well jump for the latest and greatest: VDL's Creamy Stick Jelly Blush, which debuted early March on the brand's U.S. website.
There are some important things to know about the $25 Creamy Stick Jelly Blush, though — the product's texture and application process may be pretty different than powder blushes you're used to using. The blush's appearance is similar to that of a stick blush, and comes in eight shades that'll each give you a glossy, natural flush of color (that you can build up, too). However, don't forget that one word in the blush's name: jelly. While blush sticks and cream blushes have made a dewy splash in the U.S., the jelly makeup trend is just now taking off — though VDL's Creamy Stick Jelly Blush fits into the makeup trend as much as it does the first two styles, as well.
No, the Creamy Stick Jelly Blush doesn't wiggle when you move the stick, nor is it more liquid than solid like some Insta-famous jelly highlighters. The word is often used to describe makeup products that are similar in texture to fruit spreads (or Jell-O, in some cases): gel-like, bouncy, and moldable. Detail shots of VDL's Creamy Stick Jelly Blush shows it's more cream stick than not, but still has a touch of jelly-like texture, which probably means it'll apply as smoothly as butter.
You don't use a blush brush to grab the formula, or even apply the stick directly to your face, either — VDL recommends in the product description that shoppers should apply the blush onto a makeup sponge then "dab onto cheeks". For more intense coverage, VDL notes you can apply the blush onto your fingers, then paint it on.
And why should you add such a unique blush to your collection? The interesting formula contains eight antioxidant-packed and vitamin-rich plant extracts that provide an additional dose of hydration and protection to your skin. This is especially important if you decide to use the multi-use blush on your lips, since non-hydrating formulas may dry out the sensitive skin.
Three of the eight blush shades have already sold out online, though should be back on VDL's website soon. For now, keep scrolling down to shop the five Creamy Stick Jelly Blush shades you can get your hands on.