Valentine's Day Lingerie That Isn't Completely Expected, Because Not Everyone Wants To Wear Red
SHOPBOP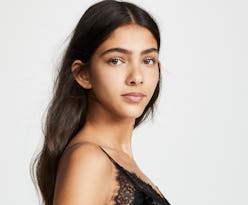 With the day known for flowers, candies, and candlelit dinners just around the corner, there's no time like the present to do a little Valentine's Day lingerie shopping. Of course, each year there are plenty of options that take the more traditional red and pink route, but if you're looking to switch it up this Feb. 14, you'll be pleased to know you can bring the romantic vibes without all the hearts and sparkle. So, whether you're dropping hints to your significant other or self-gifting, you'll be able to pick from plenty of pretty pieces that don't scream Valentine's Day.
A surefire way to achieve a sexy, sophisticated after-hours look is with a black lacy set. Those shoppers who gravitate toward wire-free may like a velvet and lace bralette, $57, while others who seek more support may opt for this balconette style with lace trimmed straps for $84 from Journelle. When not in the bedroom, wear the tops underneath your sheer blouses for a night out.
Looking for more coverage? Add this plunging lace bodysuit from Bluebella, $64, into your cart and style it under a sleek blazer dress for a dinner date. And, for those looking to bring more color into their lingerie life this year, shop this color-blocked one-piece for $49; it's equal parts flirty and elegant.
Nothing will elevate your top-drawer delicates like a silk set in a bold jewel tone. Slip into this luxe silk chiffon bralette, $100, and matching panty, $65, in a rich purple hue from Araks. However, if you've been searching for a new teddy to add to your collection, take a look at this satin and lace chemise in a shade of deep wine for under $60. When you aren't wearing it on a night-in, pair it up with a skinny leather pant for cocktails.
Continue on to shop 12 lingerie styles that you'll not only be able to wear on the day dedicated to romance, but every other day of the year too.