Urban Decay's New Brow Tools Are Coming — Here's When They Officially Hit Shelves
WWD/Shutterstock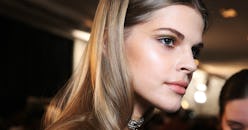 The hype around Urban Decay's new brow tools began building the second the brand dropped a picture of them online. Though the Street Style Brow Collection — which consists of five unique eyebrow products and one brow stencil set — doesn't fully launch on Urban Decay's website until Jan. 15, you can start figuring out now which of the products you need; Urban Decay has already posted the collection alongside how-to videos, makeup swatches, and other tantalizing details that make waiting for the release date much harder.
While getting a modern brow collection from Urban Decay is exciting on its own, it's particularly noteworthy how user-friendly the products are. Whether you fill in your brows, draw them on, or just use a swipe of gel to keep them in place during the day, there is a learning curve to getting the hang of brow makeup. Urban Decay simplified the process by creating $12 reusable brow guides: simply stick one of the adhesives to where you would like your brow to be, and fill in the stencil with your product of choice.
The Brow Guide was made in collaboration with the Los Angeles-based microblade artist Audrey Glass — so you know the shapes are on-trend. Use the stencils to try out potentially tricky brow shapes you may not have been able to achieve guide-free, like "High And Tight" (a thin arch), "K-Brow" (which mimics the K-beauty community's straight brow trend), or "The Holy Grail" (not too thick and not too arched).
As for the brow products themselves, the $26 Urban Decay Brow Blade stands out, since it could work to achieve so many different brow goals. One side of the stick has the standard waterproof eyebrow pencil, but the other side is an ink stain, which looks similar to a felt-tip eyeliner applicator. Fill in any patches in your brows with the pencil, then pop open the ink stain for a realistic finish; the ink stain's brush tip can be used to create thin lines that look identical to natural hairs.
Urban Decay's waterproof Brow Finish gel ($21), Brow Endowed tinted cream ($28), and Double Down Brow putty ($29) are the other three new products included in the line, but fans may be more excited to get their hands on the Brow Beater pencil. The $20 pencil has a 4.6-star rating out of nearly 200 reviews and is almost completely sold out on Urban Decay's website; the cult pencil is included in the Street Style Brow Collection though, which hopefully means a restock is in order on Jan. 15.
But until then, you can browse all six products from Urban Decay's new brow collection on its website, and start learning the tips and tricks from the product reveal video.