Urban Decay's New Naked Palette Has An Update That's Going To Make Fans So Happy
Urban Decay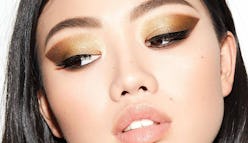 Like a phoenix rising from the ashes, Urban Decay's Naked eyeshadow palette is coming back new, improved, and sparklier than ever. No, this isn't an episode of Punk'd; the original Naked eyeshadow palette is still discontinued. But Urban Decay's new Naked Reloaded palette is about to land in stores, and the pretty, glittery shades harken back to the aesthetic that won Urban Decay's Naked palette a place on vanities across the world: It's endlessly versatile, a little glamorous, and you actually can wear the eyeshadows every single day.
Mark your calendars for Feb. 18. The Naked Reloaded palette drops on Urban Decay's website that day, retailing for $44. Fans who want to buy it at other retailers or in stores will have to wait just a bit longer; Naked Reloaded will arrive on Sephora and Ulta's websites March 4, and in Urban Decay, Sephora, and Ulta stores March 7.
So who should rush to buy the palette as soon as it drops? Everyone, in its creators' opinion. "We created Naked Reloaded to look good on everyone. These truly universal shades are made for any age, skin tone, and gender," said Urban Decay in a press email. Often easier said than done, but Naked Reloaded's 12 shades actually succeed. The palette has mattes, glitters, neutrals, and the occasional pop of buildable color.
Already know you're going to be dipping into the pale matte shade "Bribe" way more than the bright peach "Retro"? Urban Decay gets it — and widened the palette's four everyday shades so you won't hit pan (aka run out) after using them 24/7. "Bribe" has one of the bigger pans, as does the metallic gold "Barely Baked", the matte terracotta shade "Boundaries", and the matte beige "Blur".
Urban Decay posted a video and picture featuring the official Naked Reloaded swatches on its website, and has begun reposting makeup looks using the eyeshadows on its Instagram... since some lucky fans already have the palette. Urban Decay set up a Naked Palette Vending Machine in Los Angeles on Feb. 10 that let beauty fans trade in their old eyeshadow palettes for Naked Reloaded, including ones by other brands.
The count down to Naked Reloaded is on. Literally — Urban Decay's site has a counter ticking each second that passes before the release. Scope the Naked Reloaded palette below, and follow the link to sign up to be notified on the release day.