Universal Standard's Sample Sale Has Your Next Summer Date-Night Outfit On Lock
Universal Standard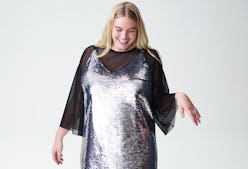 Winter date nights can be easy to dress for: Just pull on a layer (or three), grab cute, slush-proof heels, and you're good to go. On rare occasions, you can get away with a chic coat alone; it's not like you'll remove it while you're ice skating or walking along some snowy path, sipping hot chocolate. Going out during a mid-summer heat wave? That's a whole other story. However, it makes the timing of Universal Standard's first-ever online sample sale that much more relevant. Unveiled July 23, the inclusive clothing brand is offering steep discounts on its go-to staples — including many of its breezy, date night-ready dresses.
You'll be shopping for a cause, too. Universal Standard is donating 50 percent of the profits from its sample sale to Planned Parenthood. "Like US, Planned Parenthood makes it their mission to create access for all," the brand wrote online; notably, accessibility is at the core of the fashion brand, with Universal Standard offering clothing in sizes 00 to 40.
So, go ahead and click over to the Universal Standard x Planned Parenthood page on the brand's website — it's where you'll be able to find the entire sample sale, including all of the date-night pieces to add to your cart ASAP. And you really do need to move quick, too; select styles have already sold out since the sale was announced.
One piece left in stock you should scoop up first? Universal Standard's Priscilla Tie-Back Dress. Regularly retailing for $160, the red and black colorways are both marked down to only $69 during the sample sale. There are plenty of details to fawn over when it comes to the dress, too, like the thigh-revealing scooped hem, airy sleeves, and structured V-neck. The waist tie is an added bonus, as well — use it to cinch in the dress' shape or simply tie it loosely when it's still warm outside, even at night.
The Unity Cutout Skirt is another flirty piece that accents your waist without constricting it (something that's key when it's 90 degrees). The skirt features a zipper and a hidden elastic waistband — which means the form-fitting, leg-revealing style will actually be comfortable throughout the night. Surprisingly, it's marked down to just $39 from its original $90 price; so make sure to grab it while it's still in stock.
And those are just the first two pieces you should scope out. Below, eight deals from Universal Standard's sample sale to add into your date-night rotation.