This Collab If Full Of French-Girl Basics To Add To Your Spring Wardrobe — EXCLUSIVE
Courtesy Uniqlo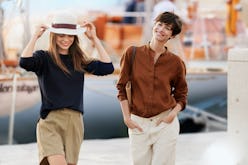 You don't have to hail from Paris or Bordeaux to appreciate French style. In fact, women around the globe have an inexplicable attraction to dressing like their French counterparts. Over the decades, the likes of Brigitte Bardot, Charlotte Gainsbourg, and Ines de la Frassange have held a spot at the pinnacle of fashion inspiration. And luckily for you, the last in that major lineup is aiding you in the quest to embody her style. For spring 2019, Uniqlo's Collaboration with Ines de la Frassange embodies the style of the French Riviera, touching on the easy dressing of ever-chic vacation destination Saint-Tropez. It marks the 11th time the style icon has partnered with the Japanese brand on a collection of ready to wear pieces.
"Saint-Tropez is a long time place for artists, musicians, writers with a very cool atmosphere, but [is] also a place where trends started," Frassange tells TZR exclusively. The model and author spent her childhood in Saint-Tropez explaining, "I remember that elegance was not linked with money, people would go out in the evening with simple flat sandals. So, in my collection there are cotton shirts or dresses — easy to wear in summer — nothing glittery or pretentious: a state of mind."
Uniqlo has established itself as a go-to for everyday pieces — everything from simple t-shirts to their much-loved heat teach. And while the brand has had some remarkably cool collabs over the last few years (including Alexander Wang and JW Anderson), according to de la Frassange, her designs may be pared back, but she wouldn't consider them basics. "Basics don't really exist, a white shirt in the '90s is not the same as today," she says. "The proportions, the details are different." She goes on to explain that her collection is rooted in it's ease to style, "I make jackets women can wear at the office but also for weekends. Clothes they can wear in daytime and the evening," she says, recommending that the customer swap accessories to update the look without changing it altogether.
As for the long-standing industry obsession with French style, "people imagine French women know a lot about fashion," Frassange notes. Instead, she explains that in her opinion, the effortlessness associated with Parisian dressing isn't about the clothes themselves, it's about attitude. "The purpose is to feel good in clothes rather then to show off what you have," she says. "Effortless-chic doesn't mean without effort, it's just not to seem self-conscious." De la Fressange's collection manages to deftly hit that sweet spot — the pieces are easy to incorporate into your already existing wardrobe, they're streamlined and chic, but simple enough to wear with utmost confidence.
Though the collection includes outwear, tops, bottoms, and knitwear, Fressange notes that when prompted to pick one item that's her forever go-to, it would have to be a simple navy sweater. "It's nice in all kinds of situations ... it gives a neat look."
Below, find a few favorite pieces from Fressange's latest collection with Uniqlo.