Ulta's New Arrivals Will Convince You To Add Bold Lipstick To Your Look, Stat
Grosescu Alberto Mihai/Shutterstock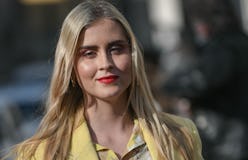 With February coming to an end (time flies, right?), spring is just around the corner, making it the perfect time to give your top shelf a refresh. While you may have your tried-and-true lipsticks, there's no better time to bring new colors into the inner circle to perk up your pout for the impending warm weather. And by the looks of Ulta's March 2019 lipstick arrivals, you really won't have a problem finding shades that pack a punch. The beauty destination's latest offerings include a slew of vibrant, colorful hues that'll take your lip looks to the next level with just a few swipes.
If you consider yourself a statement-lip lover, you're in for a treat when you scroll through Ulta's new crop of makeup products. As for those who need a little push out of their comfort zone? You'll find a range of shades that should make it easier for you to find a color you'll feel confident in — think amped-up reds and poppy pinks.
Uncertain of where to start? Dip your toe into bold color with Milani's matte lipstick in a saturated, bright fuchsia. And since it'll only set you back $6.99, scoop it up in a lip-defining plum hue as well if you decide you really want to dial up the drama.
For even more color options, click on Lime Crime's Matte Velvetine Lipstick; you won't be hard pressed to find a hue that works for you considering there are 37 to choose from. Some standouts? A fiery red shade called New Americana, a neon orchid titled Utopia, and last (but certainly not least), a shade of deep orange dubbed Sparrow.
For makeup-mavens who love a lip gel or gloss, don't worry — there are plenty of vivid hues within the latest offerings that you can grab right now, too, including Pantone's color of the year. Right now, you can add the on-trend color into your makeup bag with Butter London's super-shiny Plush Rush Lip Gloss to give your pout a dose of summer-ready coral.
If you abide by the rule "go big or go home" when it comes to beauty, peek at Smith & Cult's Hydragloss High-Pigment Lip Gel. For the more adventurous, shades of violet and neon orange are up for grabs for $20. However, you can also turn heads in a punchy, raspberry hue. Not only will these lip gels provide can't-miss color, but they promise to keep your lips moisturized with the use of ingredients like raw squalene.
Continue on to browse some of the boldest lip colors within Ulta's new arrivals and head over to the site to see even more.