Ulta's New Arrivals Are Proof It's Time To Add This Moisturizing Ingredient To Your Skincare Routine
Kiehl's Since 1851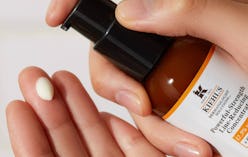 Judging by the new Ulta January 2019 arrivals, it's going to be a good year for skin care. Nearly 200 of the 714 new products — or more precisely, a little over 25 percent — fall under the category of skin care. The excitement doesn't stop there for skincare fanatics, too; 67 of the new products are from Kiehl's Since 1851, the cult skincare brand Ulta just began carrying.
As skincare itself grows in popularity, so does one of the community's favorite ingredients: hyaluronic acid. Even if you don't consider yourself skincare-obsessed, you've probably heard of the sought-after ingredient; the acid's routinely likened to a molecular sponge due to its ability to hold 1,000 times its weight in water. Hyaluronic acid users say all that extra water leads to firmer, bouncier, moisturized skin.
So while hyaluronic acid sounds like something you wouldn't want anywhere near your face, it may be your one way ticket to glowing skin. Not sure how to fit it into your routine, or if the facial acid is even right for you? Many of Ulta's new arrivals feature the ingredient in varying degrees of potency. Pick up the newly-released Peter's Super Trio from Peter Thomas Roth to ease yourself into hyaluronic acid; retailing exclusively online for $68, the value set covers three skincare bases (cleansing, moisturizing, and exfoliating)
Regularly $52 for the same size, the highly-rated Water Drench Hyaluronic Cloud Cream Hydrating Moisturizer is included in the set. Replace your current routine with all three products, or just introduce the moisturizer first; the oil-free cream is formulated with a 30 percent hyaluronic acid concentrate crafted from three different molecular sizes.
Suffering from dull, irritated skin? Hyaluronic acid and vitamin C go hand-in-hand. Kiehl's Since 1851's Powerful Strength Line Reducing Concentrate retails for $107 and carries a strong dose of the skin-brightening vitamin. Ulta's new arrivals also include Kate Sommerville's +Retinol Vita C Power Serum, a $98 essence that combines hyaluronic acid, vitamin C, and anti-aging retinol.
Hyaluronic acid isn't the only facial acid to put on your must-buy list. The $38 Cover FX Mattifying Primer + Acne Treatment is formulated with 1 percent salicylic acid, an ingredient beloved for its ability to unclog pores and heal skin. The primer has a matte finish that minimizes pores, too, for any blemishes that may pop up along your skincare journey.
With Ulta's skincare sale going on as well, it's definitely time to visit the beauty store's website. Ready to embrace the latest in skincare technology? Ahead, nine recently-added skincare products from Ulta to try — with and without hyaluronic acid.