Ulta Has 25 Days Of Deals In December — Here Are The Sales To Know So Far
ImaxTree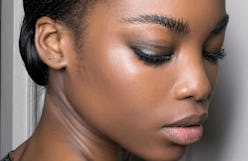 With the first of December come and gone, it's now full steam ahead into a month of shopping and wrapping gifts. As much fun as it is to give presents, the stress of picking out the perfect present while not breaking the bank can take the joy out of the experience. Here to help alleviate some of the holiday shopping anxiety is the Ulta Beauty Blitz, which you can shop for great gifts while still staying within budget until the holidays are over.
The mecca of all things beauty is hosting 25 days of surprise deals that can only be described as an extravaganza. From Dec. 1 until Dec. 25 (for all you last-minute shoppers), you'll be treated to a new line-up of sales each week, with specific markdowns each day online and in stores. Days of deals make it prime time to stock up on gifts for all the makeup mavens in your life (and perhaps pick up a few presents for yourself as well).
On Dec. 3, you can start off the week on a high note by shopping three different Stila eyeshadow palettes for a whopping 50 percent off. That means popular items such as the Eyes Are The Window Eyeshadow Palette can be yours for half off. Regularly $49, the well-reviewed product has been marked down to $24.50 during the Holiday Beauty Blitz. Coming in two different color iterations, each palette contains twelve luxe shadows. If you're wanting more earthy, warm tones consider the array of matte hues in the Mind palette. And, for sparkle and shimmer, opt for the family of shades in the Soul palette — the mix of warm metallics with dusty pinks is sure to bring the spirit of the season to your makeup routine.
Another easy buy for the holidays is the Matte 'N Metal Eye Shadow Palette for $24.50 (originally $49). Any friend who loves to have fun with their shadows will be thrilled to unwrap this set of six matte and six metallic shades. The mix of pink rose golds, pewters, and bronzes will give any complexion a fresh holiday glow.
Of course, if you're looking for a multitasker, add the Stila eye and cheek palette to your cart for under $20; it was once $39, but you can snag the versatile product while it's on sale for $19.50. Each palette has five neutral shadows as well as two coordinating blushes, and is available in three variations of pigments based on skin tone. The everyday shades all work together, so you can achieve a glam look with little effort.
What's in store for the rest of the week? On Dec. 4, you can scoop up the Party All Night 12-Piece Mini Lip Plumpers Plus Eye Veil set from Buxom for 50 percent off. Fans of Smashbox will want to stick around on Dec. 5 for half off pretty packaged holiday kits. Meanwhile, your pout will be pleased on Dec. 6 when the wildly popular two-in-one lipstick and gloss sculptor from Tarte will be down to $12.
For those shoppers seeking even more kits for gifting (or themselves) take a look at the Too Faced Limited-Edition Tutti Frutti Christmas Fruit Cake Makeup Collection. On Dec. 7, the set of sparkly products and the oh-so-adorable case will only be $15 dollars, making it quite the steal. And as you head into the weekend, make sure to pop back onto the site or to your nearest store to add a few bareMinerals holiday kits to your shopping bag for 40 percent off on Dec. 8.
With deals extending the rest of the month, it'll be hard to not start checking names off your holiday shopping list. Continue on to see a selection of Ulta's offerings during the Holiday Beauty Blitz for Dec. 3 to Dec. 8. And be sure to check the website again soon, as new deals will be unveiled each week.