Ulta Just Kicked Off Its 21 Days Of Beauty Sale & It's Full Of Cult-Faves
Grosescu Alberto Mihai/Shutterstock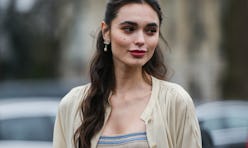 It's the event beauty fans have been waiting for. Ulta's 21 Days of Beauty Sale is here, and the discounts this year are unreal. Ulta has earned itself a sparkling reputation amongst fans for being an affordable place to shop, thanks to the beauty store's useful rewards program and omnipresent online coupons — but the 21 Days of Beauty Sale's discounts are steep, even for Ulta. And this year so many cult-favorite brands like Smashbox, Mario Badescu, and Lime Crime (just to name a few) are included.
You won't be able to sweep all the deals in one day, though. As you probably guessed, the sale takes places over the course of 21 days (from March 17 to April 6), with one-day-only discounts available throughout the event. The brand is also marking down products from its own Ulta Beauty Collection during the three-week period; those deals will last for a week apiece. However, you can start strategizing now: Ulta's released basically everything you need to know about the sale on its website, including which beauty products will be discounted, what days they'll be marked down, and by how much.
Better yet, if you miss one of your favorite brands on one day, you may have another shot later in the sale; Mario Badescu's Botanical Exfoliating Scrub, Drying Lotion, and Vitamin C Serum will all be on sale for 50 percent off throughout the event. So if you miss your chance to snag the scrub for just $13 on March 19, just remember to check back in on March 30 and April 5 for the other two deals. It really is that easy.
You may not need to wait around, too — the 21 Days of Beauty Sale kicked off with some eye-catching deals early on. Only on March 18, Smashbox's The Cali Contour Palette will be marked down from $39 to $19.50. It's a great deal, since the top-rated palette includes six cheek powders that cover all your bases: highlighter, bronzer, blush, and contour.
And that's just one of the unbeatable deals happening March 18, and during the 21 days. Ahead, a handful of the fan-favorite beauty products on sale during Ulta's massive event.