Diane Von Furstenberg's Granddaughter Just Released Her First Collection — & It Won't Be The Last
Courtesy of Diane Von Furstenberg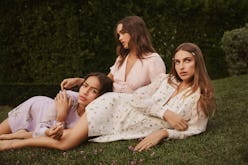 There are few names in fashion that the everyday woman trusts more than Diane von Furstenberg. You can grab virtually any piece from the designer's storied and eponymous brand and wear it that same day, then dress it up for the following evening. And while adding a fresh-faced, younger designer to a classic brand's ranks can sometimes spell disaster — in the case of TVF for DVF, it's the opposite. It isn't just a coincidence the new designer shares the same last two initials as the brand's famous leader; TVF stands for Talita von Furstenberg, Diane von Furstenberg's eldest granddaughter.
The premiere TVF for DVF capsule collection dropped April 24, and is the first of many biannual Spring and Fall TVF for DVF collections to come. Browsing this first one feels like taking a deep breath of fresh spring air: It flows in a new way, featuring a seasonal (and on-trend) muted color palette. It's different, younger, rife with midriff-baring cropped tops and mini skirts — but still completely wearable. In true Diane von Furstenberg fashion, these are eye-catching, fashion-forward pieces that you'll feel completely at ease while wearing.
But keeping Talita von Furstenberg's unique vision clear throughout the 24-piece collection was vital. "Actually DVF was not involved in TVF for DVF at all," Talita von Furstenberg tells The Zoe Report over email. "We really wanted to keep it authentically my style and make sure we separated ourselves. But of course I was using everything she's taught me over the years (including how she's inspired and shaped my own personal style) so indirectly DVF did help me!"
"Talita has always been clear about wanting to follow my path but she is very much her own person with her own style," reads a quote by Diane von Furstenberg in a press email. "It is a joy to teach her all I know as she is more disciplined than I am."
And what is the TVF style? "All of the line exemplifies my personal flair of easy and effortless styles," Talita von Furstenberg notes. "I definitely don't have an iconic dress — it has taken decades for DVF to get that… but hopefully one day I will!"
To start the journey, the designer turned to what she loved. "Collection 1 of TVF was inspired by my two favorite things: flowers and the sea. Flowers and the beach bring me so much joy and inspired most of the prints. Although all the prints are inspired by nature, each print also has a special backstory that reminds me of a memory," von Furstenberg explains.
Courtesy of Diane Von Furstenberg
Courtesy of Diane Von Furstenberg
"For example, the seashell print reminds me of when I was little and collected shells on the beach. I've always been obsessed with shells — I love that each one has a uniquely beautiful pattern," she adds. "At the end of a trip, I would gather my collection and spell out the names of each person in my family with the shells. So when I look at this print I think of my family and our lovely travels together."
To shop all of TVF for DVF, visit the brand's website. Below, a few stand-out pieces from the inaugural capsule collection.