The Knitwear Brand That's Making Sweaters Seriously Cool
Courtesy of PH5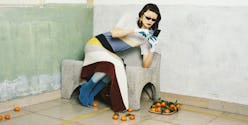 Experimental probably isn't a word you typically associate with knitwear: There are only so many ways to iterate a chunky cable knit and Breton stripe. But trendy sweater label PH5 is evading the straightforward familiarity you typically find with its quirky, technologically driven design, whimsical colors, and delightfully off-kilter silhouettes. The New York and China-based brand, which was founded in 2014 by former roommates Wei Lin and Mijia Zhang, is turning knitwear on its head and creating a collection of sweaters, sets, and dresses that garner a surprising reaction.
With a desire to create something entirely groundbreaking in the fashion space, Lin, who worked a business consultant in New York City, and Zhang, a Parsons School of Design student who held impressive stints at Christopher Kane and Nike, saw an opportunity to leverage Lin's family business, a knitwear factory run by her mother in Dongguan, China. Their goal: to build a brand that specialized in high-tech knitwear design. "We wanted it to be a knitwear laboratory — innovative and playful," Lin tells TZR of their charmingly offbeat sweaters, dresses, skirts, pants, and jumpsuits.
The duo is influenced by modern art and strives to challenge the conventional vision of knitwear by approaching each new season like a research project. "We start from a work of art and allow ourselves to be intrigued by it, which then leads us to create various elements for the collection," Lin explains.
It's with an unconventional vision and a scientific approach to design that Lin and Zhang set out to fill a gap in market with PH5, starting with innovative knitting techniques which led to their signature asymmetric dress. "We're offering something [customers have] never seen before," Lin says of their brand. "We run a research and development center where we work directly with engineers and technicians to code computer programs on cutting edge Shima Seiki knitting machines and 3D knitting machines so that every season, we can offer something completely ground breaking whether it be a new stitch, a new yarn, or a new treatment."
While knitwear has always been a crafty category, the duo says it has been a "safe" one, too. "We strive to offer knitwear with a different perspective that is so unique, unless we tell you it's a knit, you wouldn't know," says Lin, adding that seamless, 3D knitting techniques are the future for knitwear.
A technologically advanced factory keeps PH5 a cut above, but sustainability is also a focus for the brand. Lin says that, by nature, knitwear is environmentally conscious as the process of making a knit garment involves zero waste. "Unlike woven materials, we don't have to cut fabrics into patterns; we knit panels and garments in the exact shape we program. Therefore, we don't have leftover fabrics but only left-over yarns which we save for future developments," Lin explains. "We want to design more and more of our collections by experimenting with environmentally friendly yarns. We have used some in the past and we want to use more."
By taking one look at PH5's lineup of colorfully graphic sweaters, vivid, striped top-and-bottom sets (and even a skillfully knitted multicolor mohair puffer jacket), the brand's unique perspective stands out. Though, like many young labels, there was a period in the beginning where the brand's hyper-creative vision required tempering to adapt to the market. "Like many young designers, we had this false expectation of thinking our brand would take off in one season, however, we soon realized that instead of counting on that one big moment, we would grow gradually," Lin says.
It was the label's early New York Fashion Week efforts that led Moda Operandi and Shopbop to carry a few pieces almost immediately, and the duo realized that their fresh and playful instincts were best met with an adaptable sensibility to see more success. "Accessibility and originality means a lot to us," Lin explains. "Unlike most designers, production is our strength, not our weakness. We have the flexibility to bypass factory production minimums and offer capsule collections that are unique to special department stores," Lin says, adding that their vertically integrated business allows them to keep costs low for customers.
"PH5 has such a unique design aesthetic — [its] wave detailing on dresses and skirts is really what put them on the map and caught my eye," says Caroline Maguire, Shopbop's fashion director. "The color-blocked knitwear and metallic details are standout statements."
Influencers have been an essential method for PH5's growth, too, with designs making their way onto the likes of Ashley Graham, Chriselle Lim, Nina Agdal, and Instagram's own, Eva Chen. "Nowadays, many people discover PH5 through Instagram and thanks to our relationship with these influencers, we are able to grow our following and build our Instagram community," Lin shares. "We always like to have deep relationships with the influencers we work with. We often meet with them over coffee to chat about our brand story and our mission. We want them to feel excited about what we do."
Between the brand's futuristic approach to design, exceptional vision, and a desire to keep their carbon footprint small, PH5 is more than a quirky knitwear brand that will get you a bounty of likes on Instagram, but a label that's truly pioneering in the fashion space. "We want to expand on our knit suiting group; it's something we believe strongly in and we want to grow this new technique that we developed from scratch," says Lin of their immediate next steps.
Long term, it's their hope to become the number one knitwear brand not only in womenswear, but in categories such as footwear, sportswear, menswear, kids, home goods, and other industries such as travel accessories, wearable tech, and robotics. Stay tuned for all that and for now, shop the edit of pieces that will unquestionably blow your other knitted pieces out of the water.
Shop PH5