Everlane Just Launched A Totally New Brand — & There's An Important Reason Why
Courtesy of Everlane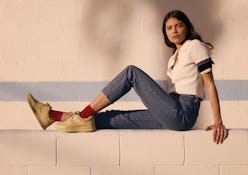 If a brand is going to enter the sneaker market in 2019, it has to do so with a bang. But when Everlane revealed its upcoming footwear foray — Tread by Everlane — it wasn't just one big firework. At first, there was the slow burn: Everlane had been teasing its diehard fans since April 15 via a cryptically stylish, completely new Instagram account (@TreadByEverlane). Then, when the other shoe finally dropped (figuratively speaking here) and the brand announced what Tread is, it was like a sparkler going off; naturally, Everlane wouldn't just roll out sneakers and be done with it. Tread is more than just shoes — it's a new sneaker brand from Everlane. And it's unisex. And it's carbon neutral. And sustainable. And its first shoe retails for just $98.
And, as it turns out, it's been long-requested. "For the past five years, we've been asked one question more than any other: When are you going to launch a sneaker?" Michael Preysman, Founder and CEO of Everlane, said in a press email. "For a long time our answer was clear: never."
Preysman went on to explain why, calling sneakers "flashy, hype-driven, disposable" — three words that longtime Everlane fans know the sustainability-minded brand steers clear from. "Of everything we wear, sneakers have one of the heaviest footprints. They require a ton of energy to produce, are made largely from virgin plastic, and never break down," Preysman explained. "So when we buy and replace them often — billions end up in landfills around the world."
Enter Tread. The new brand officially launches April 25, bringing with it one unisex style dubbed The Trainer. The $98 sneaker will be available in men's sizes 7 through 13 and women's 5 through 12, with seven largely monochromatic colorways to pick from; "Off White", "Glacier", "Grey", "Navy", "Butter", "Pale Pink", and "Black". The shape of the sneaker is classic — it looks like one that would already have been in your closet forever, and worn over and over. Which was purposeful, by the way. "Most people want a timeless sneaker they can wear for years. Not something they'll have to replace next month," Preysman noted.
Everlane went to great lengths to ensure Tread would be an eco-friendly addition, as well. The Trainer's sole is made from 94.2 percent virgin plastic-free materials, which is estimated to reduce greenhouse gas emissions by 54 percent and keep 18,000 pounds of rubber from landfills. The sneaker's leather is sourced from Saigon TanTec, a cleaner supplier than cuts back electricity use by 42 percent and fresh water by 56 percent.
"It's still far from perfect. But it's the first step on a long path to changing an industry," Preysman said. Ready to take the journey with Tread? Sign up for The Trainer's waitlist on Everlane's website to be notified as soon as it — and the new brand — officially arrive.