Totokaelo's Summer Sale Is What Every Minimalist Has Been Waiting For
Totokaelo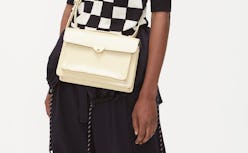 Considering the high volume of summer sales that have been happening lately, it's understandable if you're a little exhausted from shopping. However, in the chance that there were a few things you weren't able to get the first time around or you've found an area of your closet that feels like it's still lacking something, Totokaelo's summer sale is filled with chic pieces to shop.
Perhaps you're already an avid shopper of Totokaelo, but if you're just getting familiar with the brand, know that it's practically a minimalist's dream. With sleek and clean silhouettes in neutral and solid hues — along with the occasional print — the online retailer has pieces you'll want to live in for years. Whether you're looking to round out your work wardrobe, get something for a special occasion, or add a few more accessories to your collection, Totokaelo is bound to have something for you — and during its summer sale, you can get these pieces for up to 70 percent off.
This sale is the perfect time to buy new looks for the office. If you're the type of person who prefers to wear dresses to work, opt for the now-$195 Pleated Dress from Black Crane or the $219 Rita Dress from Viden. Of course, if you like to wear more pieces in your ensembles, you can't go wrong with the $159 Sleeveless Flat Rib Knit from Issey Miyake 132 5 styled with the $238 Boyd Pant from Ilana Kohn. Finish these ensembles with a simple pair of flats like the Epi Mules from Neous, $247. And if you want to go for something bolder, wear the $345 Annastar Mule by Gray Matters.
If you have a summer wedding to attend — or even one coming up in the fall — wear Xiao Li's $445 Sleeveless Asymmetric Gather Dress with a pair of classic strappy sandals. In case the dress code calls for cocktail attire, Ellery's $447 Thelma Mini Tie Sleeve Dress will go perfectly with timeless pointy toe pumps.
Of course, you can't ignore Totokaelo's handbag selection. For a new everyday purse, add the $844 Medium Pierce Bag from JW Anderson or the $734 Shoulder Bag from Dries Van Noten into your wardrobe. If you need something with more room, the CALVIN KLEIN 205W39NYC East-West Geo Tote will be able to hold everything you need and is available for $1,199.
Scroll down to shop more pieces from Totokaelo's summer sale below.