Topshop's Black Friday Sale Has The $16 Leopard Print Flats You Need ASAP
Topshop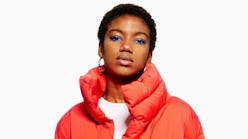 Whether you can believe it or not, Thanksgiving is literally around the corner. And while you might have a major turkey feast on your mind (and the equally important side dishes, of course), the festivities will be over in a matter of days. This means, once you've given yourself time to recover from the meal, it's times to start shopping — that is, if you haven't already gotten a head start. Though some businesses might traditionally have you waiting in high anticipation to start your holiday shopping after Thanksgiving, Topshop's Black Friday sale is giving you a head start online, and you'll definitely want to get in on this before everyone else.
Let's be real: Why not start shopping before the holiday when you already have the chance? Not only will you have more choices to choose from (because nobody likes the feeling of watching something go down in price only to have it sold out), but you'll also take some of the stress off when you've gotten a good portion of it out of the way. Marking down prices on selected pieces for up to 50 percent off, you'll find major deals for the most fashion-forward people on your list, including yourself.
From the seasonally appropriate winter jackets and party dresses to everyday pieces such as tops and bottoms, if you're looking to finish out your wardrobe with some missing pieces, this is the way to do it — especially when you've been wanting to try a major trend without spending a fortune.
For example, take these $16 ATOM Pointed Leopard Print Ballerina Pumps, which originally cost $32. If you haven't already hopped on this chic and versatile animal print, which also happens to be one of the biggest trends of the season, now you can without a hint of buyer's remorse. And, considering the fact that you can style them like any neutral shoe, you'll be able to give any ensemble a touch of polish.
Just in time for the holiday party season, you can find your full look right at Topshop. Skip the standard party dress and opt for these $50 Satin Wide Leg Trousers, which will steal the show no matter where you are. Style it with this Spot Print Cami Top to give it some more dimension, and finish your look off with a cool pair of mules that you'll never want to take off.
Looking for something to wear all winter long? This vibrant Wrap Puffer Jacket, $60, will be the perfect piece to keep you warm even on the coldest of days. Or, if you want something to wear year-round, try this Oversized Denim Jacket, which now costs $45. Pile on the layers with this effortless jacket during the winter and then wear it on its own when the temperatures start to rise.
Regardless of how you define your personal style, it's safe to say Topshop's Black Friday sale has something for everyone, and with deals like these, you'll want to shop them before they sell out. Keep scrolling to see more of the best deals from the site now.