Too Faced Is Launching Skincare & It's Better Than, Well, You Know — EXCLUSIVE
Too Faced Cosmetics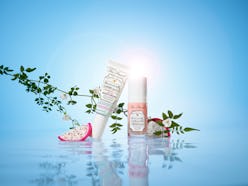 In this barely-there beauty era, Too Faced is unabashedly too much. In a good way, of course. Founders Jerrod Blandino and Jeremy Johnson introduced the world to their pink-packaged palettes, mascaras, and lipsticks more than 21 years ago, when they dedicated themselves to injecting a dose of fun in an industry that was saturated with dark, edgy aesthetics. (Oh, and to creating voluminous and lifted eyelashes that are almost better than sex.) Now, the brand is traipsing its way into another aisle: Too Faced skincare officially launches on June 27, capping off with the Hangover range. The skin products round out the bestselling collection that already includes the Hangover 3-In-1 Replenishing Primer & Setting Spray and the Hangover Replenishing Face Primer.
"Good skincare is something that Jerrod has always been passionate about," Elyse Reneau, Too Faced's Global Pro artist, tells The Zoe Report exclusively. "We were finding our girls and guys were using the Hangover Primer as skincare because it's so hydrating! So we decided to formulate skincare products based on our skin-replenishing ingredients such as coconut water, probiotics and skin revivers." That's why the Hangover Good To Go Skin Protecting SPF 25 Moisturizer and the Hangover Good In Bed Ultra-Hydrating Replenishing Serum, along with a super-sized Major Hangover Limited Edition Bigger Is Better Face Primer (which originally launched in 2014), are among the brand's first skin products.
As expected, the products are meant to enhance your skin to make your makeup look even better. But an emphasis on super efficacious ingredients that protect your complexion from the sun was also of importance. "Jerrod is really passionate about protecting your skin," Reneau says. "His sister had stage 4 Melanoma cancer and thankfully survived so he wanted to create a product that not only made your makeup look better but also emphasize the importance of protecting your skin."
It's also why coconut water is a common thread throughout the line. "It's rich in minerals and vitamins A, K, C, and B-complex vitamins," Dr. Marnie Nussbaum, a New York City-based dermatologist, confirms. The antioxidant properties found in these essential vitamins help protect the skin from free radicals and helps reduce skin inflammation. "It also contains lauric acid which is antimicrobial and may help control acne breakouts," she adds.
And while it may seem that the primer and moisturizer could be interchangeable, there's a stark difference: The new moisturizer contains SPF benefits to further protect your skin from the UVA and UVB rays while adding a boost of non-greasy hydration. "Jerrod wanted to create something that had no white residue, was non-greasy, and works well will with all skin tones," Reneau notes.
It was also important to launch a serum that plays well with the other products in the line. Like its counterparts, the serum contains a coconut water-infused formula to deliver the ultimate lit-from-within glow. Other heroes include yogurt probiotics, hyaluronic acid, antioxidant-rich exotic dragon fruit, and vitamin B5. According to Dr. Nussbaum, the vitamin B5, otherwise known as panthenol, is a humectant, which means it pulls water into the skin for hydration. When combined with hyaluronic acid (which holds up to 1,000 times its weight in water), it theoretically funnels water to the hyaluronic acid molecule, intensifying hydration significantly — for 12 to 24 hours post-application.
While brand devotees will surely be excited to test these new innovations next month, rest assured that these products actually work... it's not just pretty packaging and catchy names. "These ingredients absolutely set the line apart from others since it is mutually beneficial in treating the skin but also creating the desired cosmetic aesthetic," Dr. Nussbaum says. Something definitely worth toasting to.