This Beautiful Copper Cookware Set Is Super On Sale At T.J. Maxx Right Now
United Photo Studio/Shutterstock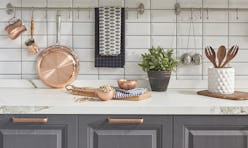 Amidst the frenzy that comes with the holiday shopping season, there are always a handful of items that stand out as must-haves — especially when you're searching for quality pieces you can use in your everyday life. Luckily, T.J. Maxx is having its winter clearance event, which means you'll be able to get all of those household items for a steep discount that any shopper can appreciate. Whether you're searching for a housewarming gift to give this season or are looking to replace some of the worn-in ones at home, these items will never steer you wrong.
Let's be honest: As much use as they get every day, buying household items for yourself, or anyone else for that matter, can still be a tough thing to justify. However, with the deals on everything from cookware and storage to home décor that T.J. Maxx has for its biannual event, that's reason enough to get the pieces you know you'll be using for years. Plus, as the end-of-season sale continues on throughout the rest of the season, some pieces will be moving faster than you might expect. Bottom line: This is the time to get those expensive home goods you've been thinking about all year.
Give your kitchen a touch of luxury with this Mauviel M'Heritage 5pt Cookware Set, which has been marked down from its original $699.99 to $499.99. You won't believe how much of a difference they'll make in your kitchen. Only need an additional copper piece for your cooking? Opt for this 9qt Copper Stockpot with Lid or 6.25qt Everyday Pan, which are both from Ruffoni and on sale for $149 and $199, respectively. Once you're finished cooking, serve your dishes on this simple Ceriart Garbatella Platter, which costs $12 in the sale. Finish off the table setting with these Mixcer Stoneware Plates, which are $20 for a pack of four plates. Once you have these, you'll be ready to plan your next dinner party.
When you aren't spending time serving up your guests as a show-stopping host, cozy up on your couch with this Fratelli Ciaram Luxe Fringe Throw, marked down to $22, for a night spent reading or watching your favorite television show. You can also give yourself the right ambiance for an evening in with a new lamp like Metal Task Lamp from Stylecraft. Just in case you want to add to the atmosphere, show off a sweet family memory with this beautiful Deco Twist Pave Noir Frame made by L'Objet. It'll be the perfect addition to a shelf or a side table.
Ready to start shopping? Scroll down to see more great deals on home goods from T.J. Maxx's winter clearance sale now.