The White Jeans Every Summer Wardrobe Needs Are Under $100 In Tibi's Sample Sale
JP Yim/Getty Images Entertainment/Getty Images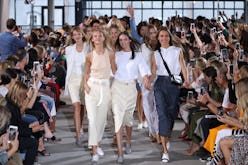 With the spring season's long-awaited arrival finally here, it's officially time to start thinking about your warm-weather wardrobe. Sure, there might be days with the occasional drop in temperature, which may lead you to return to your cozier layers, but why not get a head start on transitioning out your winter pieces for some that are lighter and brighter to get you in the mood for the days to come? Luckily for you, Tibi's sample sale has everything you could ever want in that department (and many of the pieces are under $100).
If you've been eyeing a few pieces from Tibi's collections, there couldn't be a better time to finally indulge. Right now, the New York-based, fashion girl-approved label is currently having an epic sample sale that's offering past designs for up to 80 percent off. All you have to do is enter your email when you head to the page, and then you're set to enter — and you won't want to wait long to do so, because the sale ends on Mar. 28 at midnight. Be sure to keep tabs on the pieces you're loving, because with that limited time frame and the unbelievable deals, they're bound to sell out.
While there's a good chance you've been waiting for a particular piece since you first saw it on the runways (and then streets) of New York Fashion Week, if you need a good starting point for your next shopping spree, there are a handful that stand out in particular as must-have items. For the perfect dress for every season, snag the Viscose Twill Florence Dress, which is currently on sale for $79. When you need something stylish for the office (something you can always count on Tibi to have) go for this beautiful $99 Stretch Cavalry Twill Sculpted Skirt or these blue $99 Moleskin Bianca Cropped Pants. Add another pop of color into the mix with the Simon Heels, which come in a rich royal purple hue and now cost $146.
Of course, this is also the time to start stocking up on your summer wardrobe. Looking for the perfect pants to wear on those warm nights? Look no further: The Washed Twill Cropped Wide-Leg Jeans are exactly what you need (and they're under $100). And for when you need an outer layer to throw on at a moment's notice, this Raw Denim Oversized Cropped Moto Jacket, $161, will be a chic and unexpected option.
Ready to get started? Scroll down to see more pieces from Tibi's sample sale, and add them to your cart along the way.