Those Tibi Cowboy Boots All Over Your Instagram Are On Sale Right Now
Tibi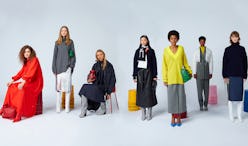 Take one look through your Instagram feed, and you're bound to see someone, whether it's an editor, influencer, or your fashion-savvy friends, wearing a piece from Tibi. The fashion girl-approved brand has a knack for creating smart pieces you can wear nearly anywhere ranging from the office to happy hour during the work week, and even brunch on the weekends — sounds good, right? Want to know something even better? Tibi is having a sale, and just in time for the holiday season, if you happen to be the mood to treat yourself. Whether you're eager to finally get your hands on a piece from the New York-based brand's most recent collections, or you're simply looking to add a piece to your regular closet rotation, there couldn't be a better time to shop.
With items from the brand's fall and pre-fall collections on sale for up to 50 percent off, you'll find beautifully-made, yet trend-forward pieces you can wear for years, making them easily worth the investment. From the cool, plaid blazer and neon pullover you saw just about every woman wear to this fall's Fashion Week to pretty shoes you'll never want to take off, you will — without a doubt — find something for your own wardrobe.
Supplement your everyday office style with the Drape Twill Wrap Dress, marked down to $297, for a chic go-to dress that will never get old. Or, stay warm this winter in the Eclipse Pique Origami Wrap Skirt, $237, which you can style with a sweater or a pretty blouse. Then, throw on this cool Menswear Check Oversized Trench, $777, which will be a fresh alternative to your standard neutral-hued coat this winter. It also has removable lining so you can wear it throughout each season.
For all of your occasions outside of the office, the Tech Poly Track Zip Up Pullover, which costs $270, will give your athleisure looks a whole new meaning, dressing up the most casual of ensembles. And for those nights out, the Tech Leather Draped Pencil Skirt, $357, will feel like a neutral piece when worn with an oversized sweater or a simple T-shirt — perfect for any parties you might have coming up.
While you're at it, take this opportunity to get in on the Western trend (that is, if you haven't already) and add a pair of the Jaggar Boots, which are marked down to $498 from the original $995, to your winter boot collection. In the chance that you want to wear something that makes slightly less of a statement, you can't go wrong with a pair of these chic Felix Boots, $398, which you'll never want to take off. Or, if you're looking for a heel to wear to all of your winter parties this season, go for the Simon Heel, now on sale for $243, which you can wear with anything — literally.
No matter what you have planned for this winter, Tibi's sale will have something you can wear for now and seasons after. Scroll down to shop more pieces from the sale now.