This IKEA Rug Hack Is So Simple (And Will Cost You Less Than $100)
Courtesy Of IKEA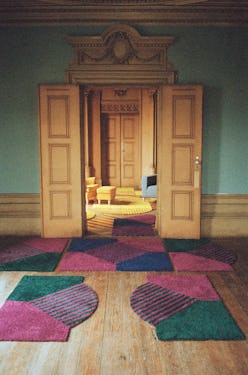 Furniture, storage, wall decor — there are so many different IKEA hacks to try that there's an entire website dedicated to it. Even if you haven't tried one yet, you most likely know someone who has. But a rug hack? Now that's something you may not have seen before — that is, until now. The Swedish retailer is getting ahead of the DIY game this time around with its new IKEA rug, which gives you the ability to customize from the get-go for under $100 (no hardware store trips required).
Available October 2018 in IKEA U.S. stores, the limited-edition SJÄLVSTÄNDIG collection (which translates to "independent) is all about creativity. The collection, which runs from $4.99 to $129, provides a range of products that allows the customer the freedom to take an item and make it what they need it to be.
"We have a lot of research in IKEA showing that people want the option to personalize items," Maria O'Brian, IKEA Creative Leader, said in a press release. "Upon altering our belongings to suit our style preferences, we're actually building a closer relationship with those items."
A first of its kind for IKEA, the SJÄLVSTÄNDIG modular carpets have hook and loop fasteners that easily let you put together the geometric pieces (in bold colors and patterns) to create a final product that is of your own design — no messy DIY required. With the new rugs, you can try out new arrangements (just a friendly reminder that not every carpet has to be circle, square or rectangle) or keep it more traditional — the choice is in your hands.
Coming in lilac, dark blue, green, and yellow the rugs are low pile which makes them great for high-traffic areas and they're easy to clean. With prices starting at under $100 (they range from $89.99 to $129) you can get the versatility you want without spending more than you need to.
The customizable rug isn't the only piece in the collection with hacking capabilities. Another item to put on your radar is the SJÄLVSTÄNDIG legs, which provide an additional way to personalize your furniture to your taste. At $29 for a pack of two, these pieces are an inexpensive way to change the height of furniture for functionality or visual appeal. The adjustable legs can be rearranged to make them shorter or taller depending on your height preferences, and are made of untreated beech so that they can be stained, lacquered, waxed, or oil-treated to create a special product that's completely unique to your space.
"The legs are interesting, like little, bold characters standing out from the crowd. They give people the freedom to play around with furniture at home," IKEA designer Hanna-Kaarina Heikkilä said in press release from the brand.
These items and more customizable pieces from the SJÄLVSTÄNDIG Collection will be available to shop Oct. 2018.