The Exact Summer Skincare Routine That Keeps My Complexion Completely Clear
@laurencaruso_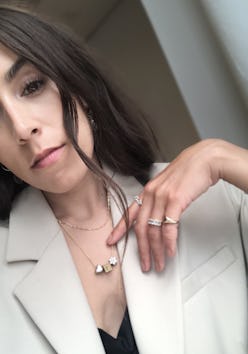 For most, summer beauty means bright, dewy skin, lighter foundation, and a touch of color if you're feeling fancy. But for those with finicky skin like me, it's not always so easy: Not only can the heat and humidity cause new breakouts and fun issues like milia, but add in sunscreen — which has a broad reputation of clogging pores, lending a greasy finish, and smudging makeup — and the summer months can feel like a recipe for disaster. Still, the best summer skincare routine for acne-prone skin doesn't have to be 10 steps long, but that doesn't mean it's not. (Hey, I'm nothing if not high-maintenance.)
I've spent the last decade finessing my skincare routine and testing hundreds of products — including spot treatments, exfoliants, moisturizers, and sunscreens — to find find something that won't send my completion into a tail-spin. I've dealt with countless sunscreens that pill over moisturizer, spot-treatments that don't mix well with sweat, and even dark-spot serums that served as the catalyst for new breakouts. Not only has the routine I landed on feel like a fail-safe these days, but my complexion looks brighter, more even, and, dare I say it, clear.
Ahead, the exact summer skincare routine I've found that quells any sign of a breakout.
Micellar Water
I find that anything that doesn't lather is best, mostly because my skin can get dry very fast. I use Bioderma's micellar water twice-over: Once with just my hands, as though it was an oil, and then again with a cotton pad (or seven) until I'm sure my makeup's off.
Physical Exfoliant
I've been using Dermalogica's Daily Microfoliant for almost a decade now. It's formulated with rice-based powder, papain, and salicylic acid to gently exfoliate and polish away dead skin cells for a brighter complexion.
Chemical Exfoliant
Dr. Dennis Gross's products are the gold-standard for brightening. This two-step peel calls on lactic and glycol acids to gently buff the skin, evening tone and texture along the way. I use this every Sunday in the summer, and every other week in the winter.
Toner
I use SkinCeuticals' cult-favorite product all year-round, but it's particularly necessary to keep lingering breakouts from turning into long-term dark-spots. It *does* smell vaguely of burnt hotdogs thanks to the vitamin C, but it's worth it.
Vitamin C Serum
I love Biologique Recherche's P50 Lotion as my toner in the winter, but during the summer months, I prefer this Paula's Choice pick. It keeps my pores looking filtered IRL and completely eradicated my milia in two weeks.
Moisturizer
I've tested hundreds of moisturizers and none even come close to this one from Malin + Goetz. Not only is it super lightweight (as in, would drip off your hand if you turned it upside-down), but it mingles well with every other product I've ever tried. The key ingredient is meadowfoam seed oil, which isn't acne-specific, but definitely won't clog pores.
Sunscreen
I love the new Solid & Striped Face Sunscreen for its texture (it's SO smooth!), but I always fall back on Dermalogica's Pure Light for days that I'll be in direct sunlight. It sinks right in, contains brightening ingredients like red algae, and offers an SPF of 50.
Spot-Treatment
I've found that benzoyl peroxide works best on under-the-skin pimples, which I'm more prone to in my thirties. I used to skip the Paula's Choice toner if I knew I'd be applying this, but I found my skin doesn't get irritated when I mix the two.
Clarifying Mask
If we're being honest, I use this mask even when I'm not breaking out. The apple cider vinegar contains malic acid, which helps remove dead skin cells. I'm still unsure about what the parsley does, but it's fun to put on and wear.
Highligher
In the summer, my makeup routine is basically null. This highlighter stick from LA-based brand Petiue offers a touch of SPF, too — apply it on the high points of your face for added coverage. On truly lazy summer days, this is the only makeup I'll put on.